Building resilient neighbourhoods with small doses of kindness
Syeda Akhtar, Age UK Birmingham Healthy Friends Project Manager
Published in JHH16.2 – Faith, hope and love in healthcare
Having worked in health and social care settings over the last 15 years supporting the most marginalised communities in Birmingham, I came to realise that what made people 'tick' was their sense of belonging, of having purpose for living, and to appreciate the 'simple things in life'. It seemed to me that people who had these qualities tended to bounce back from life's adversities,remain optimistic and be more emotionally resilient.
Age UK Birmingham has been running in its current form since 2012. Its primary objective is to provide services across the city for all people over 50 and their carers. Our mission is to empower and enable older people to make informed choices and so retain control, independence and wellbeing, and so lead fulfilling and enjoyable lives.
Healthy Friends social prescription has been funded by Big Lottery since March 2016 to work with older people in East Birmingham – an area with high levels of income deprivation and poverty – to provide practical, non[1]clinical holistic support with the aim of preventing escalation of healthcare needs. The project aims to ensure older people's financial resilience, tackle their social isolation and loneliness, enable them to better manage their health conditions, and so reduce pressure on primary care.
We realise that good health and wellness does not come from medicines alone; most of the time it comes from peace of mind, laughter, love and having meaningful social connections. But in East Birmingham, realising that older people had nowhere to go and meet to share stories, feel heard and validated, we decided to take it upon ourselves to create a monthly 'get-together' friendship club for older people. We hoped this would become a place of sanctuary for those who needed it, and provide some social infrastructure in an area lacking the social glue, by bringing people and places together to enhance local social capital.
Our evaluation report completed by independent consultants, LK Communications concluded that '… Healthy Friends' approach recognises the importance of community by helping people to attend group activities in their neighbourhood and encourage inclusion of others in this. They also encourage older people to volunteer and mobilise in communities.'
The Healthy Friends service has allowed older people to meet in its micro-communities, safe and friendly places where it's 'OK to not be OK' or to discuss feelings and worries without them being judged or medicalised. For many, just talking was enough to improve mood and quality of life. Someone who had accessed our service for basic needs but who subsequently attends the group regularly commented:
I had someone to talk to and talking has helped me greatly. If it wasn't for Healthy Friends I would have been stuck in my own home.
As they learn to co-exist with their neighbours, and make meaningful connections with like-minded local people, participants start to develop hope and a sense of purpose. The warmth and love this generates can make difficult times feel easer – perhaps even beautiful. But most of all, by knowing that they can be empowered, it can restore faith in themselves in formerly isolated people.
Ours is obviously a strength-based approach model (see www.nurturedevelopment.org/asset-based[1]community-development). As a senior clinical practitioner commented: 'It was lovely to see four of my patients there [at a celebration event] enjoying themselves and getting on with enjoying their lives and forgetting about their illnesses for a while.
GPs and health professionals have commented on the impact of our service.
A lady who had diabetes, she wouldn't go out of the house she was so shy and isolated. When I first saw her, she wouldn't let me touch her [feet]. After I had been able to help her with her diabetes and foot care, I handed her over to the Healthy Friends team for ongoing lifestyle support as well as to address isolation. And they got her out of the house and got her finances sorted. When I saw her, she said "I'm just going to get my nails painted at an activity day". This is someone who wouldn't even let me touch her [feet] when I first met her. I would never have the time to achieve that – it's great to have the project to refer people to.'

Health care assistant

It's a resounding "Yes" for reducing isolation. The project gets people out and interacting. They sit and have nice chats with people; they make them feel wanted and loved.

GP
The Healthy Friends monthly get-togethers enabled the older person to feel alive again, and gave opportunities to contribute to society, to share memories and talents with like[1]minded people and to foster connections. We human beings tend not to sense our strength until someone needs us to lift something; we don't feel intelligent until someone asks us to solve an issue; we rely on the needs of others to remind us what we're capable of.
How do loneliness and social isolation differ?
A person feels lonely when there is a gap between the amount of social contact they want and the amount they have. It is a subjective response and refers to how they perceive the quality of their lack of relationships.
Social isolation on the other hand is an objective measure of the number of contacts a person has. It is about the quantity rather than the quality of relationships. Some people choose to have a small number of contacts and, whereas loneliness is never desired and the feelings can take a long time to change for the better, being socially isolated can be overcome relatively quickly simply by increasing the number of people they are in contact with (Loneliness, Age UK website).
Social ties and bonds are very important to people, because they make us feel valued and supported. However, in today's society, for an ageing population in a digital age, moments of real connection and warmth can feel extra special precisely because they don't get that many: many families no longer live close by, friends are few or absent, older people are often bereaved, with multiple long-term health conditions and frailties, lacking accessible transport and financial resources. Therefore human interaction is more vital than ever before and takes enormous courage for an isolated and lonely older person. For them to come out of their comfort zone and meet strangers can be a huge milestone.
We need to talk about loneliness
Loneliness is a serious taboo. As a result, suffering in silence is having an adverse effect on the health and well[1]being of millions. Loneliness can be as harmful for our health as smoking 15 cigarettes a day (Loneliness, Age UK website). 3.6 million older people in the UK live alone and more than 2 million of them are aged 75+ and for many, their feelings of loneliness and emptiness are heightened at Christmas and other special family-gathering events.
It is a real confidence booster for older people to realise they can re-invent their lives, regain control and independence and make new friends at any stage in their Building resilient neighbourhoods with small doses of kindness KINDNESS IN COMMUNITY Members of the Healthy Friends group on a trip to Stratford-upon-Avon © Journal of holistic healthcare ● Volume 16 Issue 2 Summer 2019 13 lives; that they have something to offer and a new sense of purpose to live again.
A health care assistant who referred patients to our service commented:
One lady now gets out regularly – these sort of things we take for granted, but she wouldn't have had the confidence without Healthy Friends.
A regular older person at our coffee morning get-together said:
The coffee mornings helped me to improve my social activities. I used to be in my shell until I came here
Another member at the coffee mornings said:
I feel less lonely – I don't mix very well but I feel comfortable here and I feel far better now. I feel revived and have something to think about. I've made friends with two others and have exchanged phone numbers.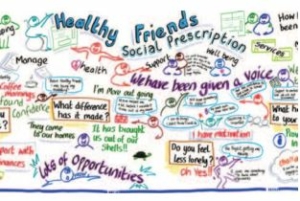 Our evaluation found that attending Healthy Friends events gave people the sense of purpose, and to be happy and fall in love with being alive again. They valued opportunities to be active and use their senses to interact with other people, exchanging stories along their life journeys, and to discover that people who once were strangers were now friends. Small acts of kindness that support older citizens with non-medical issues, or merely listening to their woes meant the world to them. Surrounded by support, love and empathy from staff and peers, simple acts of social engagement changed negative thoughts to positive ones – even if only for a moment.
So far we have worked with just over 430 older people with low level and intense case management work. Using the UCLA Loneliness Scale (a short scale of four questions designed to measure subjective feelings of loneliness and social isolation, Russell et al, 1980) to measure baselines on loneliness and isolation we found that 49% have reduced their isolation and feel more connected. It seems that through kindness, compassion, hope and time from strangers we can tackle the epidemic of a lonely society and reignite community spirit. If 'it takes a village to raise a child… and to live and age well in later life', and 'no man is an island', we must continue to co-design and collaborate with stakeholders in public, statutory and third sectors. If we serve our communities and can help others regain hope, then if this timeless value system runs true to form, help will be reciprocated in the time of need and so create a community where we can all age well and flourish.
References
Age UK website. Available at: www.ageuk.org.uk/informa[1]tion-advice/health-wellbeing/loneliness (accessed 24 May 2019).
Loneliness and isolation: understanding the difference and why it matters. Age UK website. Available at: www.ageuk.org.uk/our[1]impact/policy-research/loneliness-research-and-resources/loneliness[1]isolation-understanding-the-difference-why-it-matters (accessed 24 May 2019).
Russell D, Peplau LA, Cutrona CE (1980) The revised UCLA Loneliness Scale. Los Angeles, CA: University of California.