British Holistic Medical Association
Dedicated to education in holistic medicine and healthcare
Re-imagining health and illness through the qualities of humanity
Explore the dimensions of being holistic 
– make your choice by clicking on the word-cloud!

W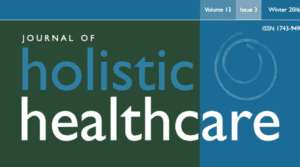 e are really excited to announce that our project to make an online searchable archive of articles from our Journal of Holistic Healthcare is now underway. 

We believe this treasure trove should be available to a wider audience than our current members so individual articles will be available to non-members for a nominal amount. 
We successfully raised almost £700 – many thanks to our contributors. 
The New BHMA Website
We are delighted to welcome you to the new BHMA website. Discover the dimensions of Holistic Healthcare in our new and thought-provoking resource. Join the BHMA and become part of our growing community. As a BHMA member you will be able to access archived editions of the Journal, receive our newsletter, and access additional resources.
Other News and Events
The College of Medicine is hosting a 2 day Foundation on Integrated Medicine in Bristol in July. Professor David Peters our JHH editor will be co-hosting alongside Dr Michael Dixon. For more info on this event or see our Facebook page.
Our Spring edition of the Journal should be with you very soon. We do hope you enjoy it and would love your feedback. Join us on social media. 
For more News & Events