Sing with Us – the benefits of arts and social prescribing
Iwan Jones – Head of Wellbeing,Tenovus Cancer Care
Published in JHH15.3 – Social Prescribing
A desire for a more rewarding and fulfilling job led me to the opportunity to work for Tenovus Cancer Care, leaving behind the world of retail distribution. One of the major draws to this role was having the opportunity to manage services that are all designed to support people in need, including an arts-based service. In my younger years the arts, particularly singing, were an incredibly influential and important part of my life – and music still is. Getting the opportunity to combine one of my personal passions and supporting people in original ways in one role is a rare opportunity, and one I had to take. Since then I have developed my knowledge of cancer and I've also been able to further appreciate just how important the third sector can be in supporting people in a variety of ways, while helping them cope with a difficult time in their lives. One area I am particularly interested in is how third sector and community-based services can support the health sector in an increasingly tough and demanding environment.
Introduction
In 2018, Tenovus Cancer Care is celebrating its 75th birthday. The charity started in 1943 with 10 businessmen in south Wales who came together to fund small projects to help people in need of support in their community. In the 1960s, the charity began to focus on cancer research, which led to the building of the Tenovus Institute in Cardiff, which continues to house cancer research. Tenovus Cancer Care continues to research and fundraise towards a future without cancer, while offering a range of support services to help people who have been affected by cancer.
Sing with us
Tenovus Cancer Care has six distinct services, each created to provide support to people affected by cancer. This is combined with promoting lifestyle choices and behaviours that can help people to prevent the development of cancer in the first place. These services include mobile support units offering treatment to people closer to home, a support line where dedicated nurses can provide advice and comfort to anyone dealing with cancer, and Sing with Us, a network of choirs that offer support, social integration and, of course, fun.
Sing with Us has the potential to play a part in the local social prescribing scheme – a holistic framework that allows arts, social and community activities to overlap with primary healthcare provision. In early 2018 I was lucky enough to witness the idea of social prescription becoming a physical and tangible concept. Members of my team were invited to attend a conference on social prescribing in Bristol, where one of our Sing with Us choirs was also asked to perform. At this event, it was clear that there was a strong desire and appetite to use the benefits of social prescribing in the broader sense – making socially prescribed inter[1]ventions and activities a more robust and practical referral method. This type of event will hopefully become more commonplace as it proved that many of the potential barriers can be overcome.
A brief history of Sing with Us
Sing with Us was born from the initial set-up of a choir in Pontypridd, south Wales in 2010. A couple of years later an opportunity arose for Tenovus Cancer Care to be part of a television programme about a group of cancer patients who sing together. The programme was called The Big C and was part of Channel 4's early venture into the Stand Up to Cancer campaign. The focus of the programme was to explore the stories of these very individual people, how they came together as a choir and how the choir and the group they were part of helped and supported them. This was the original idea for what Tenovus Cancer Care wanted to achieve with Sing with Us. It continues to be an essential part of the ethos of the choir. In 2012, Tenovus Cancer Care got funding to grow the Sing with Us family in Wales, taking the total of choirs from one up to 15 over the following three years. Since then further funding has allowed the charity to add one choir in Wales and two choirs in England, expanding Sing with Us to the network of 18 choirs it has today.
The primary purpose of Sing with Us is to support people affected by cancer in a fun, fulfilling and supportive manner. This opportunity provides a social setting where people affected by cancer can meet and create friendships while they learn to sing together as a collective group. As a holistic support service, Sing with Us also offers a pathway for those involved to receive further support from other areas of the charity if needed.
We believe in the power of singing!
Sing with Us is open to anyone who has been affected by cancer, including but not limited to, patients, survivors, carers, healthcare workers, family, and friends. The choirs have been designed to be inclusive of everyone regardless of singing experience or lack of it. Each choir meets every week for an hour-and-a-half rehearsal session which is made up of two dynamically different sections. The first half an hour is dedicated to socialising, including welcoming any new members and having an all-important cup of tea! This social part of the session is vital to the choristers as it allows them to integrate into the choir and get to know each other, with many friendships continuing beyond the choir sessions. This helps to create one of the really special things about Sing with Us; it becomes a self-perpetuating entity as the people who are initially supported by the charity go on to support the people around them who join later – one of the many reasons we consider them as a family. At any session, there is no pressure for anyone to share their personal experience of cancer with anyone else, but they know that others are there in solidarity with them and they can talk if they want to. The hour making up the second part of a session is then dedicated to singing. It will typically involve some warm-ups, learning a new song and running through older songs at the end of the session to end on a figurative, and often literal, high note. All the songs that are covered by the choirs are chosen and arranged with the aim of being uplifting, meaningful and/or fun. Each session is run by one of the charity's very talented team of choir leaders, who are all professional musicians, who together help to decide on the new tracks, record them, and then teach them to their respective choirs.
Sing with Us has earned a significant place at the charity through its somewhat unique ability to both support the people who use it and to also support the charity in its continuing work to raise awareness of cancer. Integral to this are the choristers, who themselves come to be some of the greatest advocates and spokespeople for the cause. Many of the members of the choirs go on to do so much more for the charity: whether they fundraise individually or as part of one of the Friends of Tenovus groups – perhaps volunteering for bucket collections or participating in gigs – they play a crucial role in helping the charity to achieve its aims.
Gigs, a term used to refer to any concerts or events at which a choir is invited to perform, are a great way to publicly showcase the ability of these fantastic choirs, to increase awareness of the charity's work and to raise vital funds which allow the charity to run these brilliant services in the first place. Also, many of the choristers share their personal stories with the charity's storyteller, offering a unique insight into how cancer has affected them and how they have moved past it, often positively contributing to the support Tenovus Cancer Care has been able to give them.
Sing with Us now boasts an active membership of approximately 1,400 people with more than 900 regularly attending a weekly session through the year.
There has been a longstanding perception that singing improves your wellbeing, as do a range of other arts and social activities, and this is very much at the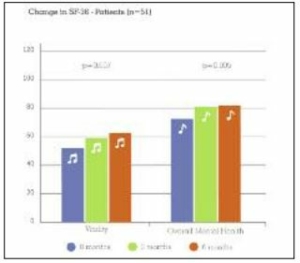 heart of Sing with Us. While this perception has existed for a while, through Sing with Us there was an opportunity to research this idea further. Exploring this perception and ideology is key to understanding the role that arts-based opportunities can play within social prescription.
Research and Sing with Us
Research has always been at the forefront of what Tenovus Cancer Care does, and this certainly applies to researching the effects of singing through Sing with Us. Since its inception in 2010 the charity's own research team, along with a number of key stakeholders and partners, has conducted a wide range of research projects on the service in an effort to add evidence to the perceived power of singing and to help to develop Sing with Us, making it so much more than just singing.
The research started with The Big C choir and a preliminary study conducted by Cardiff University demonstrating a reduction of anxiety and perception of pain following an hour-long choir session. Following this, a quantitative study was completed in conjunction with the university involving more than 1,000 choir members completing validated questionnaires (the Short Form 36 and Hospital Anxiety and Depression Scale) on joining the choir, three months after joining and six months after joining.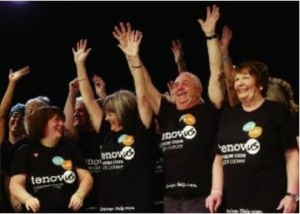 This research, along with further qualitative data capturing, led to an opportunity to work with Imperial College London and the Royal College of Music who were pioneering the use of saliva to test for biological changes in response to musical activities. This study examined 193 choir members from five Sing with Us choirs, taking saliva samples from before and after a one-hour choir rehearsal with the aim of investigating any biological changes that occurred. The study showed numerous beneficial biological effects from the hour-long session including the reduction in cortisol levels and an increase in endorphin and oxytocin levels. These exciting findings provide evidence for a beneficial effect in terms of reducing the body's inflammatory response, which has been linked to an increased ability to fight serious illnesses – including cancer!
Following this initial breakthrough, there was a desire from all three parties to undertake a more detailed and expansive study into the long-term effects of singing in a choir on specific groups of people diagnosed with cancer. This proposal was accepted and led to a further partnership study, adding the Royal Marsden Hospital as a partner. This has been conducted over the last two years and the results are expected to be published in late 2018.
Social prescription and Sing with Us
Social prescribing has become an increasingly popular and crucial option when looking at the shape of healthcare in the future – especially given the financial constraints that are increasingly affecting the NHS. Social prescribing (or community referral) emerges from the recognition that people's health is very significantly influenced by a range of social, economic and environmental factors. So it makes good holistic sense to address these powerful health determinants. In simple terms, social prescribing makes it easy for all primary care professionals (GPs, nurses, etc) to refer their patients to other local non[1]medical opportunities. These can be provided by any of a growing number of community groups, third sector services or work-provided opportunities. The idea is to help an individual to improve their health and wellbeing with less reliance on medication or other medical inter ventions, and great self-reliance. These schemes can provide a much more sustainable long[1]term resolution for a patient.
While the idea of social prescription makes logical sense, and many separate studies have shown it to be effective on some level, social prescribing will not be able to cure disease and it will not always be the most appropriate form of support. Further, it almost always requires a higher level of engagement, commitment and effort from the individual to get the most out of it. The role of the 'prescribing' professional is also a critical part of the jigsaw. It requires their judgement to make a recommendation that is right for that patient at that time. The more confidence that can be given to healthcare professionals, and the more they can determine the benefits of these interventions for themselves, the more it will allow a method of social prescription to reach its full potential.
Another critical factor that could severely impact the movement towards social prescribing is consistency – or the potential lack of it. Social prescription has been spoken about at length in various corners of the UK, but progress has been relatively slow in adopting the approach and finding a joined up, coherent method of referral is an issue. There are many factors that affect this, including the way GP practices and the NHS in general are set up (or split up). Different health boards, practices, geographical locations, and individuals will probably have different approaches and priorities based on location or circumstance. However this mixed-methodology means that trying to apply social prescribing across all these areas is a considerable challenge.
A great future for social prescribing?
As these barriers are overcome, and as the method of social prescribing becomes more widely accepted by healthcare professionals, the focus will swing to those organisations that are able to provide services and activities that patients can be referred to. In a general sense, the arts and activities that involve the arts tend to be a very acceptable and suitable export for social prescription. As an established arts-focused service for people affected by cancer, Sing with Us is a perfect example of what is available in the broader environment to support social prescribing. The evidence that has been built up with the research and evaluation of Sing with Us in its eight years of existence strongly suggests significant health-related benefits for people who are involved in this arts-related activity. Hopefully these findings, along with the evidence from the wider research field, will be enough to demonstrate the real benefits of these types of activity and enable healthcare professionals to be comfortable with referring their patients to them. Beyond that research is the human element of these activities, where people who come from all walks of life and backgrounds can be brought together to unite and help them cope with a difficult time in their lives. In this way, through becoming committed and engaged, Sing with Us enables individuals to play their part in creating a new self-sustaining support network. This aspect of social prescribing is a crucial element to keep in mind because that is where the more significant and extended benefits of social prescribing come into effect. The advantage of these activities being provided by external organisations is that they can be supported by other activities offered by the organisation. Using Tenovus Cancer Care as an example, the members of the Sing with Us choirs can benefit from the other support services the charity offers, such as the money advice service. In this way, by referring to third sector organisations, individuals are often supported on multiple fronts.
Tenovus Cancer Care is aiming to reach and support as many people as possible to continue to give hope and to help people cope, working towards a future without cancer. In line with this vision, Sing with Us as a service will continue to support people affected by cancer long into the future.
For more information about Tenovus Cancer Care, Sing with Us and any of the other services and research from the charity, see: www.tenovuscancercare.org.uk; face[1]book.com/tenovuscancercare; twitter.com/ tenovuscancer.