Rediscovering human– nature connectedness through social prescribing
Craig Lister – Green Gym Managing Director, The Conservation Volunteers
Published in JHH15.3 – Social Prescribing
I had some challenges during my childhood and left school with few qualifications, which I now consider a valuable experience. Deciding I needed to take control for myself I joined the RAF at 17 and immediately benefited from the camaraderie and support and drive the military gives. Fast forward 12 years post military, I retrained as an exercise physiologist aligned to my sporting activities, but found a passion to help others help themselves, particularly those with complex obesity and chronic back pain, the latter being the subject of my postgraduate research degree.This evolved into national roles within public health and exercise referral where I developed an interest in evolutionary physiology and the underpinning components of a healthy, happy life.
The art of healing comes from nature, not from the physician. Therefore, the physician must start from nature, with an open mind.

(Paracelsus, 1493–1541)
The biomedical model continues to provide wonderful outcomes for many people. But for many human problems technological and pharmaceutical options are neither appropriate nor effective. It seems unlikely that the NHS will be able to serve an ageing population with complex needs without fundamental system change. As this realisation dawns on policy[1]makers worldwide, I am becoming more optimistic that through social prescribing we may rediscover what we once knew so well about health and wellbeing: something we lost, or that was taken from us inadvertently, or in some cases deliberately.
As an exercise physiologist I have helped many people with complex obesity and chronic pain to achieve their goals. Often, they were people for whom the normal biomedical model had proved unsuccessful. I got much better at helping them make progress once I realised that the physiology component was (relatively) the straightforward part. By far the bigger challenge I faced was in how to support behaviour change. Having taken additional training in this area, I found that by using motivational interviewing methods I could engage more effectively within this psycho[1]social space.
As I spent more time in the voluntary sector, my understanding of the breadth of what constituted health and wellbeing evolved further. Out in this arena I met many wonderful (usually unsung) people, who help their communities every day, through their selfless, compassionate and direct support.
Wired for nature
If we compress human evolution into 24 hours, then for around 23 hours and 58 minutes – more than 99% of our time as the human species – we lived and worked in the great outdoors. In this wild and wonderful but mostly challenging environment, despite the lack of medicines, technology, far[1]ranging communications, and our relative weakness and vulnerability to many predators, homo sapiens became the planet's dominant species, largely I believe through collaborative effort. As a group[1]living species it was by supporting each other, and by sharing and learning through adversity and successes, that humans evolved extraordinary resilience. People everywhere demonstrate this every day.
Humans are group animals by nature, gathering information from body language, facial expressions and spoken language, seeking support from trusted others in time of need, sharing success and challenge. Tending and befriending are in our DNA. Neurochemical changes from positive group engagement support enhance bonding, reduce aggression and dull perceptions of pain. In most cases I believe that humans are also altruistic, within boundaries and given the opportunity, particularly where they feel their actions have lasting impact.
As a hunter-gatherer species we co-evolved with the natural environment; the human body produced its own self-regulation pharmacy, for instance the range of myokines triggered by physical activity and temperature changes, that help regulate inflammation, oxidation and control a wide range of metabolic functions. Physical activity it would seem is a basic requirement for our species. It regulates blood sugar, builds muscular and skeletal strength, returns blood from the extremities, and improves mood. Yet compared with former times, in today's deskbound workplaces and with our homes crammed with labour-saving devices, we have little need to exert ourselves. Whereas until quite recently our diet varied with the seasons and was produced without chemicals, the transport industries, agri-business and Big Food have changed all that. Yet people who are less well-off are disproportionately disadvantaged when it comes to choosing to eat foods the body can thrive on.
The list of challenges our species had to overcome and shared as we evolved is a long one. In particular our mind and body had to adapt to the rigours and pleasures of the natural world, which may explain why simply being in green spaces can boost mental wellbeing. There is growing evidence of biological benefits too, for instance a joint project in autumn 2017 involving the BBC, The Conservation Volunteer's (TCV) health programme Green Gym and the University of Westminster demonstrated improved cortisol awakening response (CAR) as well as reduced anxiety, in an eight-week conservation scheme management (ie group-based physical activity with a purpose) that at the same time enhanced biodiversity (BBC2, 2017). Players from the People's Postcode Lottery support TCV to gain further evidence of the positive impact of Green Gym on health and wellbeing.
Evidently we have a symbiotic relationship with the natural world, and it's one we break at our own, and its, peril. But when, as in the above example, we work collaboratively, and in nature (which reconnects us to being active and also has inherently two-way healing effects) we go with the grain of human nature. My 85- year-old father who suffers from Parkinson's and other ailments is a case in point. He finds great solace in green spaces and in engaging with people. So by volunteering to greet visitors at Hampton Court Palace, his social Rediscovering human-–nature connectedness through social prescribing NATURAL WORLD Hedgelaying in Regent's Park Participants at the Trust Me I'm a Doctor Green Gym in Regent's Park 40 © Journal of holistic healthcare ● Volume 15 Issue 3 Autumn 2018 prescription allows him to socialise, feel useful, get active and spend time in green space: four-way health creation! He, of course would wryly observe that what I am proposing would have been 'everyday common sense' when he was younger.
Over the past 20 years and more, we have witnessed the scope of the NHS expanding, along with people's ever-increasing expectations of the breadth and speed of care it should deliver; in parallel we have seen individuals' growing disconnection from their own health-creating processes, perhaps exacerbated by consumer culture, live-now-pay-later values, and the ubiquity of lawyer[1]fuelled legal claims. I suspect the modern world's disconnection from nature contributes to these high levels of learned helplessness: that the Smiths' song Ask (1986) gets it right: 'Nature is a language, can't you read'. It seems we have lost our 'natural' nature-literacy and forgotten the fundamental roots of health. Yet social prescribing has enormous potential to restore some of this missing sense of self, of belonging, connection to place and (my particular focus) links with the other than human world. Where SP succeeds is when it helps a person own the challenges they face, celebrate their achievement in tackling adversity and be motivated to sustain an upward spiral of wellbeing and participation.
Natural forces within us are the true healers of disease

(Hippocrates, 460BC–370BC)
TCV's Green Gym is as an example of one kind of provider within social prescribing. It works with colleagues from charities with a similar ethos such as The Land Trust. Together with almost 1,000 small community groups we enable more people to experience the benefits of group[1]based activity in green spaces. Aligned to components of social action theory and the five ways to wellbeing (connect, be active, take notice, keep learning, give), achieving things as a group within natural surroundings has clear health benefits. Other newer programmes such as Good Gym and parkrun use our altruistic nature and the outdoors to help others in a similar manner.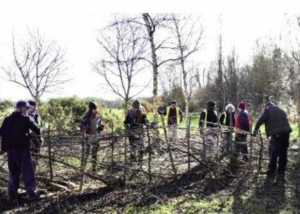 Something like social prescribing has been happening in many guises, under many names and for a long time. Now though, with social prescribing at a critical stage, there is potential to move it forwards with support from the NHS, which will be a crucial for its spread and long[1]term success. But let us never forget that social prescribing is about people and communities first; the communities that deliver the bulk of the provision whether in green spaces, through art, safe and affordable housing, debt support, help with relationships, loneliness. We are fortunate that the Big Lottery Fund supports TCV and many others to develop the social prescribing agenda.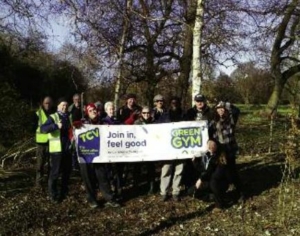 There is an immediate need to ensure the sustainability of these active community groups, and NHS support will help of course. Never forget though, that social prescribing is a diversity of approaches all of which must be embedded in the communities they arise from. So is there a danger that the NHS, with the best of intentions, by bringing social prescribing into 'the system', could inadvertently erode the community roots that have to respond sensitively to local needs? Without this spontaneity will SP lose its essence?
I believe aspects of social prescribing work particularly well in nature and green spaces. It is powerful because it reflects our nature as group-living mammals, who are evolved to help each other and who want to feel valued, empowered, optimistic and enabled to seek help. Social prescribing has the potential to remind us that we are responsible for our own health, or at least to share responsibility with others who can help us build resilience. It tells us that it's OK to ask for and receive support.
There is more evidence to be gathered of course, but let's not dismiss what we instinctively know to be true about the positive impact of social support; that after all it's not rocket science, it's (human) nature.
The noblest art is that of making others happy.
PT Barnham (1810–1891)
References
BBC2 (2017) Trust Me I'm a Doctor. Mental Health Special. 1 November, 9pm.
The Smiths (1986) Ask. Rough Trade Records.