parkrun: stories of inspirational people
Simon Tobin, GP, Norwood Surgery, Southport; parkrun ambassador for health and wellbeing
Published in JHH15.3 – Social Prescribing
I've been an NHS GP and trainer in Southport for 25 years. My interests include diabetes, lifestyle medicine and deprescribing. I worry a lot about overprescribing, overdiagnosis and doctors who slavishly follow guidelines without asking the person in front of them what matters to them. I love offering lifestyle change as a possible alternative to medication. Fell-running was my passion until a tragic knee injury (walking up a flight of stairs!) ended what promised to be at best a decidedly mediocre career. I now swim in beautiful lakes instead of limping around them. I am an unpaid parkrun ambassador for health and wellbeing.
Without my local parkrun to inspire and motivate me my numbers would not be as good as they are Click To Tweet
Eileen's story
'I did it!' declared the triumphant text below a photo of a Lycra-clad Eileen beaming from ear to ear at the finish of the Great North Run. The message continued: 'From feeling very low to a half marathon via parkrun and an excellent GP. Thank you so much'. This was only the second time I had ever given my mobile phone number to a patient of mine but I was excited to hear how Eileen had got on.
A year previously, she had come to see me at the surgery to ask for my help. She told me 'I feel broken'. I've known Eileen for 20 years since she moved to Southport and have always been fond of her. She has a broad Geordie accent and a wonderful, warm nature. Life has been challenging for her as a lone parent and moving across the country with a young daughter but she has worked tirelessly and done everything possible to make a good life for the two of them. Eileen's father suffered from severe shell shock during the Second World War and was 'never the same' after the war ended. She vividly recalls how terrifying it was to visit him in hospital during his admissions for electro[1]convulsive treatment.
She and I have met many times over the years to discuss her recurrent issues with stress, anxiety, depression and low self-esteem. Periodically she has used alcohol as a coping mechanism and has been on and off antidepressants for many years. This time though she seemed different. She told me that she had stopped drinking two weeks previously and that she was fed up with the constant cycle of feeling bad about herself, needing medication, getting better for a short while only to relapse a few months later. She wanted my advice on how she might be able to change things permanently. I was thrilled that she'd come to discuss this with me and after applauding her brilliant efforts with the alcohol, asked her if she did any kind of physical activity. She said that she didn't, so we chatted about whether feeling physically fitter might help improve her mental health too.
That was two years ago, when Southport parkrun had just launched, so I asked Eileen if she might be interested in coming down to see how she got on. 'But I'm not a runner' was the reply. I explained that roughly a quarter of people who come to parkruns across the country don't run, they often walk or sometimes do a mixture of walking and jogging – either way, everyone was welcome. I promised her that she wouldn't come last – every parkrun has volunteer tail walkers so nobody has to suffer that indignity. Interestingly, Eileen said that a couple of friends at work had been encouraging her to come along with them and she was up for giving it a go. She and I agreed to meet at the park that Saturday, 15 minutes before the start. Fascinatingly, she told me recently saying that when I mentioned parkrun what she had actually thought was: 'What? Is he f…ing joking?"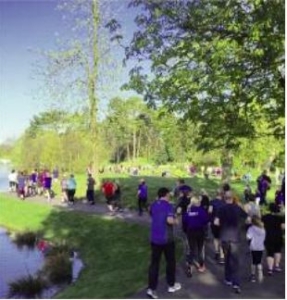 Over the past two years I have 'referred' more than 100 patients to parkrun, with some tremendous results. parkruns are free 5 kilometre events that take place in parks and open spaces across the UK every Saturday morning, at 9am in England and Wales and 9:30am in Scotland and Northern Ireland. From humble beginnings in Bushy Park, London, in 2004 with just 13 runners and five volunteers, there are now 540 parkruns around the country and that number is increasing every week. parkruns are open to everyone aged four and over. Additionally, 2k junior parkruns on Sunday mornings for 4–14 year-olds are also booming. There are currently 230 weekly events, with more events starting every Sunday. Participation is rising rapidly with more than 150,000 walkers, joggers, runners and volunteers getting involved every weekend at parkrun and junior parkrun across the country. 1.6 million people have taken part, including more than 53,000 people who identified themselves as inactive at the point of registration.
My local parkrun in Southport sits right in the middle of the catchment area for my surgery where I've worked as a full-time, NHS GP for 25 years. Our first Southport parkrun two years ago attracted just 24 walkers, runners and volunteers. This summer we set a new attendance record of 510 finishers and 36 volunteers.
Our course is flat and fast yet when I look at the finish times for parkrunners at Southport I'm delighted to see that the average finish time is considerably slower when compared with other parkruns across the country. That tells me that we're getting a higher proportion of the slower runners and walkers coming along. Getting these folk to increase their exercise really excites me in terms of making a real difference to the health of our communities. The quicker runners would be out running somewhere whether or not there was a parkrun but without the cheering marshals and team at our local parkrun to support and welcome the slower participants, I suspect that many would just have stayed at home.
I was delighted to see Eileen with her friends at the start of the parkrun that Saturday and thrilled to see her cross the finish line to a huge cheer from our marshals and the other runners, with a huge smile. She said to me later: 'Those first scary weeks when the team at the finish cheered and encouraged me, I felt like a superstar'.
Eileen has now become a regular at Southport parkrun and as her times have come down, her confidence has risen. She's now completed several 10k races and I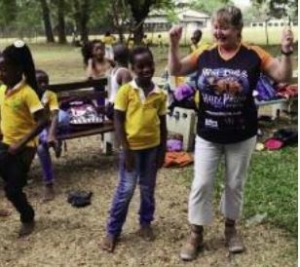 was so proud of her when she said that she had entered the Great North Run in her home town of Newcastle. She told me that never in her wildest dreams had she thought that running in this iconic race was achievable for her. That was something other people did.
There's been a fascinating change in Eileen since she started at parkrun, a newfound confidence and a noticeable rise in her self-esteem. She showed me some photos of her taken recently on a charity trip to Malawi, surrounded by laughing children. She told me that she had always wanted to get involved with this project but had repeatedly declined invitations because she had lacked the confidence. She worried that she would let them down. She certainly hasn't and has plans to go back again. Eighteen months since starting at parkrun Eileen has transformed her life – she feels in control and has not needed antidepressants for nearly two years.
Gary's story
One day last year, 47-year-old Gary came to chat to me at Southport parkrun and wanted to share his story. He had been diagnosed with type 2 diabetes in 2015. He was over[1]weight at 96kg (15 stone), a smoker, his cholesterol was up and his blood pressure very high at 185/118. Following his diagnosis Gary hit a major low patch but eventually decided he wanted to try to turn his life around. He told me that his big motivation for change was his love for his young son – he wanted to be around to see him grow up, get married and to be there to see his grandchildren. Sensibly, Gary decided to start by tackling his smoking and with extraordinary willpower he managed to quit. He then began to think more seriously about his diet. He had been offered metformin to control his high sugar levels but worried about the high risk of side-effects such as abdominal pain, bloating and diarrhoea. Gary was determined to avoid medication if possible. Interestingly, I have been offering many of my patients a choice over recent years. I've asked them whether they prefer to take lifelong medication or to consider lifestyle change. Fascinatingly, almost all opt for the latter. That phrase 'lifelong medication' is a wonderfully powerful motivator.
Gary looked at dietary change and realised that reducing his intake of sugar and starchy carbohydrates was the way forward for him. He began to lose weight and as he did so he began to move more. His brother was a regular at Southport parkrun and encouraged Gary to come down and give it a go. Despite his apprehension he gave it a try and loved it.
So how's Gary getting on now? In short, fantastically well. He weighs 20kg less than in 2015 and his waist is 15cm smaller. His high cholesterol and blood pressure are now fine. He remains off cigarettes and his diabetes is perfectly controlled without the need for medication. Gary told me: 'When my results came in I was applauded by the diabetic nurse. Without my local parkrun to inspire and motivate me my numbers would not be as good as they are and I don't believe that I would be running'. He has now gone on to complete several 10k races and half[1]marathons. He now considers himself 'a runner'. All this has been achieved because he chose lifestyle change rather than lifelong medication.
Fascinatingly, I've noticed a change in Gary over the time I've known him. He's developed more confidence and his self-esteem has risen. He has shared his amazing success story with other diabetics and become a parkrun ambassador for diabetes. I believe that his perception of himself has changed too – from someone who felt that he was a victim of a long-term condition to seeing himself as a real success, a father to make his son proud and a role model for others with diabetes. All of this is hard to measure of course but I have no doubt that parkrun coupled with a positive attitude have made this possible.
Kelly's story
I was chatting to Kelly, another patient of mine, a couple of years ago. She's an inspirational woman, a lone parent in her early 40s. Kelly has been blind since birth but has never let this stand in her way. She got a degree in performing arts and then went on to study journalism (she is fluent in Braille), working all her adult life and still being a wonderful mum. One day at the end of an appointment she told me that she was fed up with her gym class – when they went outside for a run they put her on the rowing machine so that she 'wouldn't come to any harm'. She felt patronised and frustrated. People with disabilities are half as likely as non-disabled people to be active (Sports England, 2014). I asked Kelly if she would be interested in coming along to Southport parkrun that Saturday. By coincidence I had just trained as a guide runner and was desperate for someone to practice on. To my surprise Kelly was up for it and didn't seem put off by my inexperience. This wasn't the first time her feisty determination would amaze me. I picked her up from her house and we managed to get around the course without falling or bumping into anything. We needed to stop and walk three times for Kelly to get her breath back which, in retrospect had more to do with all the new sensations hitting her much more rapidly than normal, making her feel slightly panicky. She had never, ever run before, something that I had completely failed to appreciate.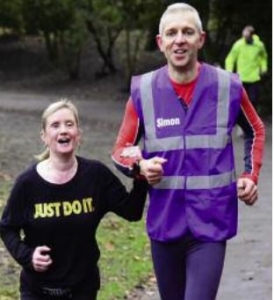 After we finished, I asked Kelly for her thoughts. She told me: 'It's really difficult to describe to anyone who can see, just what it feels like to suddenly not have a cane in your hand – the sense of achievement it gives you when you do take that leap of faith. It's such a lovely experience to be running through the park on a Saturday morning, feeling the fresh air hit my face'. She then went on to say that she was disappointed with her finishing time. She was frustrated that she had needed to walk and knew that she could cover the course more quickly. So she came back and had another crack at it the following week, managing to complete the course two minutes faster. In fact, Kelly came back to Southport parkrun for 13 successive weeks and set 13 successive personal bests – I've never heard of any runner doing that. Her time over 5k has dropped from 45 to sub-25 minutes. Like Eileen, Kelly has gone on to bigger and better things, several 10k races and half[1]marathons and to my delight, completing the London Marathon with her guide Mike earlier this year. I asked Kelly recently what difference starting at parkrun had made to her life and she told me that it had given her an amazing boost of self-confidence to realise that she was capable of achieving anything that she put her mind to.
There are few people who would disagree with the importance of physical activity for good mental and physical health but I believe that the positive aspects of volunteering at parkrun and other social prescribing ventures are not given enough consideration. A patient of mine in her 60s who has issues with anxiety recently told me that volunteering at parkrun had 'revolutionised' her life. I'm beginning to realise that there are huge benefits from simply bringing people together and helping to build communities. parkrun is in a wonderful position to involve people who may be hard to reach and those who are on or beyond the periphery of our communities.
Alfy's story
I was very moved by the story of Alfy Kirkley, a young man who was serving time in HMP Haverigg, one of three prisons where parkrun UK has recently set up events. Clearly there are logistical challenges to setting up a parkrun inside a prison but there is tremendous potential for improving the health of both staff and inmates. Alfy was a regular at the prison's Black Combe parkrun before his release earlier this year. One can only imagine what it must be like to leave prison. Previous relationships may have broken down, you may be living in new accommodation and perhaps lack a supportive community around you. Well, as a parkrunner that was different for Alfy. parkruns around the country are exactly the same – just register once only, print off a barcode to enable your results to be processed and turn up on a Saturday morning. So that's what Alfy did following his release. He had a community to go to, one where he knew the system, felt comfortable and was welcomed and encouraged. I was astonished to see a tweet from Barrow Police saying:
Particularly moving was Alfy's response, in his own words: 'I feel i av found a new life. i can't change what i av done but I can try an make amends. thanks everyone expecially ….my new family. this is a lifesaver n I'm only gona improve. it's all about pbs now. thank u all again'.
When I think about what I look forward to each Saturday, it's meeting up with a group of people who I care about, catching up, having a natter. The exercise is a great addition but it's the social connections that make it so enjoyable. I know that there are people at my parkrun whose only significant social interaction each week occurs at parkrun. The importance of this cannot be underestimated. I was shocked to read that loneliness has been linked to a 30% increase in premature death (Holt-Lunstad et al, 2015). The NHS spends millions of pounds each year on tablets that have a relatively small  impact on reducing the risk of heart disease or stroke yet we talk very little about loneliness, social isolation and the benefits that might come from addressing this.
Elisabeth's story
Elisabeth lives in a residential care home near Bushy Park, home of the first ever parkrun. Her daughter Lucy is a keen parkrunner and decided one day to bring Elisabeth along to watch the event. Elisabeth loved sitting in her wheelchair alongside the course, cheering the runners and walkers and high-fiving the children.
Elisabeth has now become a regular volunteer at Bushy Park and the team has awarded her honorary marshal status and presented her with her own hi-vis vest which she proudly wears each Saturday. I know that both Elisabeth and Lucy were deeply touched by the enormous number of Christmas cards she received last year from local parkrunners. Atul Gawande, in his wonderful book on ageing, Being Mortal, stresses the need for all humans to have a purpose as we approach the end of our lives. I know that parkrun has given Elisabeth this.
parkrun has the power to transform lives not just in terms of physical health but also mental and social benefits. It's free, local and helps to build and strengthen communities. I have no doubt that as a result of coming along to parkrun many of my patients have taken control of their health and need fewer medications as a consequence. Side-effects are less likely to occur as a consequence and the NHS saves a fortune in unnecessary medication. My patients feel great about this, it's given them a real sense of hope.
Recently parkrun has linked up with the Royal College of GPs to set up parkrun practices. GP practices across the UK that establish links with their local parkrun and encourage patients to go along will be certified by the college. Interested GPs can find out more from the RCGP website. The response has been overwhelming with more than 100 practices signed up in the first two weeks. It's wonderful to see so many healthcare professionals embrace the importance of physical activity and the benefits of social prescribing.
There are now 1,550 parkruns across the world with nearly 300,000 participants each weekend, and such is the demand that the number of events will double in just the next two years. There seems to be a real interest in the enormous potential benefits of social prescribing. Developing links between the NHS and parkrun makes perfect sense. It's the best and the cheapest medicine there is.
One final story. A few years ago a middle-aged GP was feeling frustrated with his career. He worried that he spent too much time telling his patients to take preventative medications that they didn't want and that he didn't really believe in. He knew that he should be encouraging physical activity but simply nagging his patients to start running or join a gym didn't seem to work. Getting involved with parkrun has transformed his life. His circle of friends has widened and he has met some astonishing and inspirational people from all walks of life. All of a sudden he feels that there is a form of physical activity out there that will appeal to his patients and he is enthusiastic about inviting them to come along in any capacity. He enjoys meeting them on a Saturday morning and now regards many as friends as well as patients. Connecting with his patients outside the surgery has been a wonderful revelation for him. It has deepened and strengthened his relationship with many of them. He feels so much happier and energetic about general practice too. 'Prescribing' parkrun has given both him and his patients a new lease of life. I'm sure you've guessed who the GP is. Perhaps the same thing could happen to you?
For more parkrun information visit www.parkrun.org.uk.
References
Gawunde A (2015) Being mortal. London: Profile Books.
Holt-Lunstad J, Smith TB, Baker M et al (2015) Loneliness and social isolation as risk factors for mortality: a meta-analytic review. Perspect Psychol Sci. 10:227–37.
Sports England (2014) Active people survey 8 (2013/14). Available at: https://www.sportengland.org/research/about-our-research/active[1]people-survey (accessed 25 August 2018).