Can life in a former chocolate factory be infused with faith, hope and love?
Lisa Loveridge, Pastoral Care Co-ordinator, The Chocolate Quarter
Published in JHH16.2 – Faith, hope and love in healthcare
A common thread through my time social working, spending 11 years as a full-time mum, dealing with major health issues, being an unpaid carer, and now in pastoral care, is being on the edge. Sometimes it's a cutting edge, like providing innovative services or working in a multi-faith role, other times it's much more marginal.The main thing is that I can bring my whole self to work now and have adequate support to thrive and to make the edgy position sustainable.
Fry, Cadbury and St Monica
I work in a chocolate factory, and no, it's not a chocolate paradise! In fact, it doesn't make chocolate at all any more. It's no longer even a factory. It has a dance studio, a multi-faith room, a spa, a cinema, an art and pottery studio, a wood-fired pizza oven and (get this!) a nail bar and treatment room which, among other things, provides male waxing and facials! This transformation received the 2019 National Pinder Healthcare Design Award for best regeneration project. I want to tell you about this building because it is central to my story. The building is in the small town of Keynsham between Bath and Bristol in south west England. It was built by the Quaker Fry family in 1925 and later taken over by Cadbury – another Quaker family. Over the years it produced Fry's Chocolate Cream, the Double Decker, Dairy Milk, Chocolate Buttons, Cream Eggs, Mini Eggs, Cadbury's Fudge, Chomp and Crunchie. But not any more. Cadbury was bought by Kraft Foods in January 2010 and shortly afterwards chocolate making was moved to Poland and the Keynsham factory was closed with the loss of 700 jobs.
Six years passed before the derelict shell of the factory buildings was bought by the St Monica Trust. It's important for this story to give you some background to the trust. Around 100 years ago, the trust was created and named after Mary Monica Wills, a deeply religious High Anglican who had married into the wealthy Wills tobacco family in Bristol. Her passion as a young woman was to provide a 'purpose-built haven for the care of chronic and incurable sufferers'. She achieved this with the purchase in 1919 of a 27-acre site a few miles from Keynsham in Cote Lane, Westbury-on-Trym, North Bristol (www.stmonicatrust.org.uk/our-exper[1]tise/history). The modern St Monica Trust, still based in Cote Lane, continued with the original vision by converting the Keynsham Chocolate Factory for various purposes including a care home for the very frail, and 136 retirement apartments (housed in the two nearest blocks in the photo[1]graph). They converted the third block into offices and a GP surgery which now provides them with rental income. The wider site, mostly owned by the developers, Taylor Wimpey, has become a large housing estate with designs that complement the old factory, and with sport and recreational facilities for local people, thus honoring the original vision of the factory's Quaker founders, Egbert Cadbury and Cecil Fry.
The job
My role is pastoral care co-ordinator. The role is a legacy of the Anglican foundation of the charity and is unusual, as spiritual care in retirement villages and care homes is often patchy and usually exclusively Christian. This is despite being a central part of care of the dying in a multi[1]faith society. These days, the St Monica Trust is mostly secular. My job is to support any residents, families, staff, trustees and volunteers who want to work with me. This can be anything from presiding at funerals and memorial celebrations, sitting or praying with people who are dying, to conducting harvest celebrations for the whole community, organising tea and coffee for Baha'i celebrations and listening to people with mental health problems or the carers of people with dementia. The average age of residents in the apartments is mid-80s. All apartment residents own their homes while those in the care home are a mixture of self-funding and NHS or social services supported residents.
The initial construction of this building in the inter-war period required faith in a future, in humanity and in our continued love of chocolate! Converting it required faith in taking out a multi-million pound loan to provide a new model of service for older people. This is despite the brokenness of our social care system and the likelihood that future generations of elders may be unable to afford to live in such a place. It was a courageous thing to do.
A resident recently asked what the qualifications are for a pastoral care co-ordinator in this place. This is a very good question and I'll return to it. From my employer's point of view, what was important in my application was my background in both Christianity and social work, not being 'churchy', my commitment to my own growth and learning and my understanding of and commitment to values such as community integration, finding meaning and purpose in life and of empowerment.
I am a spiritual seeker and was a Catholic Christian for 40 years but always interested in other religions. Finally, I made myself spiritually homeless about 5 years ago, which feels a more comfortable place to be. I struggle with institutions but get strength in community, so I have tended to find or have created small groups mixing reflection on the Bible with meditation. I am also committed in my personal life to social action on issues of peace, justice and the environment and gain much strength from being around people who also work for these goals.
Compared to being a social worker, being a pastoral care co-ordinator is liberating. For example I am able to be myself, share my experience if it's relevant or might be helpful and am able to hug people if they would like a hug. There are no forms to fill in and I'm able to listen without having an imposed agenda. This is great when people want to say what a bad time they're having. I can be creative in organising and presiding at both Christian and multi-faith events, making beautiful orders of service and in creating and maintaining a calm and peaceful environment in the multi-faith room. I often have to pinch myself that I am paid to chat with people and that I also get paid to go to church and to meditate.
Faith and no faith
My role encompasses faith, hope and love in their broadest senses. I see faith as our unique spiritual path, which sometimes follows a particular religion and sometimes doesn't. Either way, it is about what makes us tick as people and links closely to wellbeing. Our relationship with nature, our experience of meditation and having close relationships could be important for both. It requires a deep respect for everyone's beliefs and inclusion of a representative range of beliefs in our ceremonies and community celebrations. It may not be religious faith that people hold but rather a belief that we're on a spiritual journey. The Christian, Quaker, Pagan, Muslim and Baha'i faiths currently count residents among their numbers. This provides a diverse range of possible experiences and opportunities for growth for our residents. Many residents have tried Quaker Meeting and Baha'i worship through curiosity and appreciate that they can do this.
Things do not always turn out as expected. While I put on silent meditation for a Pagan resident and those who have no religious faith, the most regular attendees are Christian. A colleague runs a creative reflection group where people can bring a poem or picture that means something to them and also do a craft activity. This is a wonderful group for helping to create a sense of community, where people feel valued, enabling creativity. The same colleague and I also offer guided meditations. We support residents who wish to provide worship opportunities to others. For example, a 91-year-old resident has set up a small group to provide monthly Christian worship for people with dementia in the care home and another resident leads Christian worship for LGBT+ people in our multi-faith room. We benefit from the support and company of many local residents in leading groups and attending events, which helps us not to be an insular community.
In our wider culture, we tend to be uncomfortable talking about faith. I found my social work training and practice sometimes hostile in this regard. Strangely, I think it would have been easier if I were from a minority religion, but being Christian, and worse, Catholic, was seen as a problem. To understand the importance of my faith to me, you would need to know that, as a child, God was my imaginary friend. As a teenager, I had a very short experience of profound inner peace in the chapel St Francis near Assisi. On school retreat age 15, I came to a deeper experience of God like that described by TS Eliot in The Journey of the Magi, when the Magi stated that their conversion was 'hard and bitter agony for us'. At that point, I began to get involved in the music ministry both in my church and at school. Then sometime in my late teens, I decided that God couldn't exist, which made me desolate. However I found that I continued to pray and realised that prayer is not something that I choose to do, it just happens. I figured that something beyond my conscious mind must be making it happen and I returned to faith. In all the tragedies and joys of my life, I have felt God to be near to me, even when too upset to pray.
So what about faith in the lives of our residents? Many are comfortable wherever they are on their religious journey, whether that is using a particular Anglican prayer book or being Catholic or Baha'i. Others appreciate freedom and space to grow and being supported in this. For some, their spiritual path is expressed through more than one Christian tradition, for example we have four Anglican residents who attend Catholic mass. There are those residents who enjoy discussing and worshipping with members of other Christian denominations and those who prefer to remain within one tradition. Many residents do not wish to discuss their journey, which is fine with me, as I'm busy enough! The main thing is that there is a place and a person with whom one can express things if desired.
There is a popular idea that people come to faith in older age. So far, this is not my experience and an article in The Guardian (Summerskill, 2000) cites research comprising interviews with 340 older people, showing that they follow the national trend of becoming less religious. My observation is that people without a faith struggle most to find meaning and purpose in their life. It is also very helpful to have a belief that there is something to learn in all our experiences in life, even in our suffering.
For many of our residents, faith in themselves is important at a time when increasing frailty is sapping their confidence. It might be faith in life, as some people struggle with the ageing process. Or it could be faith in a future in which a person requires assistance in a culture which values independence. Which brings me to hope.
Hope
The average age of our residents is 86 years. Many are widowed and have lost a caring role. Their children (if they have any) have also grown up and they have varying degrees of contact with them. Others of our residents are still caring for a partner with dementia or terminal illness and of course many our residents have many of their own health issues. Depression is a big one. Nationally it affects around 22% of men and 28% of women aged 65 years and over (Health and Social Care Information Centre, 2007).
I am very aware of the need for hope and try to address it by encouraging people to find meaning and purpose. This might be through community celebrations, for example for Founder's Day or Harvest Festival or through donating to Bristol Refugee Rights or other charities (opportunities are provided throughout the year). It may be through helping people to engage in events in the community, which requires some signposting, as 50% of the residents are not local, often having moved to be near to their children. I support people to volunteer, such as the two residents I already mentioned who lead worship. Another resident regularly leads silent meditation when I am away. It is tempting for people to move in and to think that they're just biding time until death, so helping people to see that they can still contribute is a challenge that we face as a team and try to address by providing options at many levels.
Fred (not his real name) is in his mid 80s. He's nominally Christian, mostly agnostic and goes to Baha'i worship because he likes the music. He is a widower and hates the ageing process. Though he is able to get to the shops and regularly sees family members, he is depressed. Helping him to find hope is a challenge. I've referred him for a volunteer befriender and a colleague has suggested medication. We have suggested many voluntary things that he could do or groups he could attend in town but he's not interested. He's happy to read at community celebra[1]tions. His negativity has alienated some other residents and it is sometimes an act of love to listen to him.
Given the prevalence of hopelessness, the diagram below resonates strongly with me. You might assume that poverty is not an issue for our residents but after paying their annual maintenance fees, some have little to live on. Many are concerned to save enough to pay for care when they come to need it. For those with a partner needing residential care, there are often issues about how this will be paid for. I'm not aware of blatant examples of age discrimination, however I think that the impact of our ageist society is more psychological. We value paid work, so people sometimes feel useless when they are not working. People can easily see themselves as a burden on others, which perhaps would not happen in some other cultures. Most of us are afraid of needing support, particularly when we know that those services are often under-funded and not always of the quality that they should be. It requires a strong belief in the dignity of people to withstand all of this.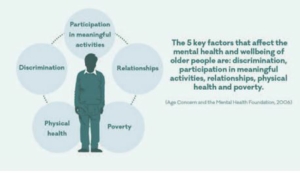 Love
As a social worker, I was uncomfortable with using the word 'love' at work. It smacked of unprofessionalism and of being too attached. But inevitably I became fond of people.
When working with people with learning difficulties and labelled as having 'challenging behaviour', the most transformative services I commissioned in terms of reducing violence and increasing happiness were those where the quality of the relationships between care staff and residents might be described as unconditional love.
These days I am much more open about love at work. Authenticity in relationships is very important to me. This does not negate the need for boundaries and I draw the line at being Facebook friends with residents and rarely give out my personal number. Here is another story: I was asked by the wife of a man who was close to the end of his life to go and pray with him. The florist had just delivered some flowers for the multi-faith room and I took these, along with a candle and a cross. Despite being in the very late stages of dementia, the man was delighted to both see and smell the flowers. I left them with him and he continued to enjoy them, looking at them and asking for them to be brought nearer to him over the last few days of his life.
I am very fortunate that my employers pay for me to go on retreat for four days a year. I pay for my own external supervision with a Christian psychotherapist every month and for monthly spiritual accompaniment, with a counsellor providing soul integration therapy. She integrates aromatherapy, reiki and crystal healing into her work. I try to meditate every morning, but I am not always successful.
In this role, I walk alongside people, without wielding power. I share more of myself than I have ever done in my previous roles and people share the intimacies of their lives with me. I am not a counsellor but I do a lot of listening. Here, love is a by-product of the creation of community. Much of my role is helping residents to build relationships with each other and with visitors from outside. It is amazing to watch how people do this and support one another over time. For the future I have many plans for expanding my skills and enrolling others so that more residents receive the sort of support that will help them to thrive.
Coda
In the old days at Fry's, I understand the staff would pray every morning. Nowadays it is lovely that Quaker meetings have returned to Keynsham and that silence can still be part of our lives. The concern of the Fry and Cadbury families for the physical and spiritual wellbeing of their employees aligns with the values of the St Monica Trust and this has been expressed, for instance in the facilities provided such as the new gym and pool and in the decision to create my own role. When all of this is combined with the founding St Monica commitment to those who are frail and in need, the Chocolate Quarter embodies not only the St Monica legacy of Mary Monica Wills, but also honours the Quaker heritage of the choco[1]late factory and its ethos. It is a remarkable project.
References
Health and Social Care Information Centre (2007). Health survey for England, 2005: health of older people. [online]. Available at: www.hscic.gov.uk/pubs/hse05olderpeople (accessed 14 September 2015).
Summerskill B (2000) Elderly lose faith in religion. The Guardian. September 3. Available at: www.theguardian.com/uk/2000/sep/03/ religion.world1 (accessed 16 May 2019).