Your world in words: connecting to oneself and nature
Gazelle Buchholtz, Freelance writer, researcher and environmental worker
Ann Hodson, Social work lecturer

Published in JHH16.1 – Nature Connections
The project Your World in Words seeks to support people's growth of nature connectedness and confidence. The idea arose from elements derived from my work based on a Master of Science, Biology – Communication of Scientific Knowledge, a Minor in creative writing, and as a guided reader at the Danish reader organisation. Furthermore, coming form an upbringing with severe alcohol and drug abuse in the close family, in a socially deprived area, it has been liberating to discover how nature, reading and writing can help to handle, redeem and process difficult situations. I wish to share these benefits with other people.
Gazelle Buchholtz
I am a social worker with more than 10 years experience in child protection. In 2011 I completed my PhD and since then have been working in academia as a social work lecturer. I teach a range of subjects including reflective practice and in 2014 I co-authored a book on reflective writing. I also have a research interest in childhood trauma. As a child I experienced close personal bereavement and found reading and writing stories provided an opportunity for emotional solace, but was criticised by teachers for poor spelling and grammar. This dented my confidence and I left school with few academic qualifications. As an adult I decided to take evening classes and ultimately went on to university. I now want to inspire young people to fulfil their potential.
Ann Hodson
Exposure to natural settings increases children's ability to focus and enhances cognitive abilities Click To Tweet
Introduction
David Attenborough has stated, 'No one will protect what they don't care about; and no one will care about what they have never experienced' (Williams, 2013). We live in a world where urbanised areas continue to increase: in 2007 the United Nations reported that at least 50% of the world's population was living in cities. It predicted this would rise to 60% by 2030 (Science Daily, 2017). With a rapidly increasing world population, the growth of cities has the potential to create a wall between nature and humans, ultimately risking disregard for natural resources. William Bird (Moss, 2012) stated the importance of connecting with nature at a young age.
He claimed that if a child is not connecting with nature below 12 years old, they will lose the resilience which nature provides.
With a new type of workshop Your World in Words we want to help people of all ages, but particularly children and young people, to connect to nature as well as to themselves. The workshops allow participants to have space and time to connect with nature and to feel confident using written expression to reflect, relax and be creative.
This paper briefly considers existing research and outlines the findings from a pilot workshop of Your World in Words. The pilot was one of a series of workshops in creative writing and shared reading that has nature and the natural world at its core.
Building on existing research in the fields of nature connectedness and creative writing and shared reading, Your World in Words draws these elements together, resulting in a unique and interesting experience.
Building natural resilience
Connecting with nature
Research into the importance of being outdoors for children and young people is not new. Sport-based outdoor courses, walking and camping, and the growing interest in school-based outdoor education certainly have their place to help people connecting with nature. Your World in Words, however, provides a personal space to engage in the process of reflection and creativity. We are interested in the effect on children when they are given the opportunity to experience three sequential interacting elements: immersion in a natural environment, writing and the shared reading, out loud, of published literature.
We want the project to support resilience by stimulating awareness and connection with nature as well as encouraging creativity and pleasure in literature. This does not need to be an activity located in remote woodlands and hills. Many young people who face complex social and personal challenges grow up in urban parks and small pockets of planting. Your World in Words is designed to be available to all and targeted at those who might need it most.
Not only does nature provide us with physiological benefits, like lowering stress levels and blood pressure, but the psychological impacts can improve life conditions. A report published by the North Carolina State University underlines that exposure to natural settings increases children's ability to focus and enhances cognitive abilities. Using outdoor classrooms and other forms of nature[1]based experiential education supports students in social studies, science, language, arts and maths (North Carolina State University, 2012).
Fleming (2018) says that it is possible to experience a deeper connection with nature, or with others in a group and in a wider sense of oneself, in natural areas like wood[1]lands and mountains, as well as designed environments, for example urban green space and gardens.
A study of a group of young people aged 7 to 18 showed nature connectedness as a consequence of field trips (Braun and Dierkes, 2017). Children aged 7 to 9 years expressed the strongest shift towards nature connected[1]ness. Braun and Dierkes conclude: 'In light of the growing alienation from nature among children, educational programs re-connecting students to the environment seem more important than ever. The intervention presented in this study showed that direct experience of the surrounding environment can restructure students' connection to nature' (Braun and Dierkes, 2017: p946).
Using writing
The use of writing linked to nature to help people make positive connections to their surroundings and enhance wellbeing is not new. When studying university students' self-analysis through journal and personal essay writing related to nature experiences, Bennion and Olsen reported: 'We have found that this dual course helps students develop solid habits in recreation, reflection, and writing' (Bennion and Olsen, 2002: p245). Likewise, Gardner and Kuzich (2017) studied nearly 100 9 to 10- year-old children and found positive effects of the influence of natural spaces with the children's writing becoming more imagery-rich and evocative. Gardner and Kuzich concluded: 'The study has implications for students' literacy development, creativity and agency and suggests that students' poetic writing is enhanced through direct contact with nature' (Gardner and Kuzich, 2017: p1).
Research at The University of Sydney showed the benefits to children of writing. This included improvement in writing quality, better planning, organisation and ideas, enhanced ability to reflect and self-evaluate, increased confidence to work with others, and more willingness to talk to people, particularly adults (Sydney University, 2015).
Shared reading
Research shows examples of how reading can be a useful tool to understanding oneself and others, which can lead to increased feelings of confidence and positivity. See for example Polley and Kovandzic (2017).
The concept of shared reading originates from the organisation The Reader. The organisation describes itself as '… pioneering the movement of Shared Reading – helping people to connect with a better understanding of themselves and others, enabling them to realise the changes they want to make' (The Reader, 2017). Since 2008, the organisation has used shared reading as a tool to improve wellbeing, reduce social isolation and build resilience in diverse communities by supporting people to read great literature aloud together. The concept has spread to Denmark, Australia, Belgium, the Netherlands and Germany, and organisations are researching the effects of shared reading.
The workshop
The innovative side of Your World in Words combines all three of The Reader's elements: improving wellbeing, reducing social isolation and building resilience in diverse communities. The intention is to support individuals to feel connected with nature and to feel comfortable using words to convey thoughts, feelings and experience, and therefore to connect to both their inner and outer world. On an individual level this may provide some therapeutic experience and on a wider level may even enhance care for the environment.
Your World in Words is run as a series of workshops with an ideal group size of five to eight participants. The project idea and framework was developed and tested by us (see Pilot test – sign of a powerful tool, below) and was presented at the International Conference on Ecocriticism and Environmental Studies in London (Buchholtz, 2018).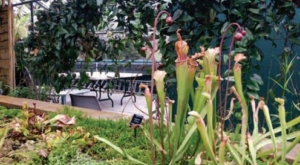 Each workshop uses exercises in creative writing and shared, guided reading with nature and the natural world as the focus. The aim is to create space for expression where the participants can consider their thoughts and feelings and how experiencing nature and natural surroundings might affect them. Ideally, a group should meet regularly.
Each of the six workshops lasts three hours and comprises:
short writing exercises and an invitation to each participant to read aloud their own written texts
a walk where people are encouraged to remain silent, focusing on nature and connecting to their thoughts and feelings
guided shared reading of a short story and poem selected by the facilitator.
While writing is something many people take for granted, creative writing and sharing the work with others can be a daunting process. The writing exercise is designed to help people get in touch with their feelings and develop ways of expression. Reading their short text aloud gives them an opportunity to overcome shyness, anxiety or other challenging feelings.
After a few writing exercises the participants are asked to go for a walk alone in silence, and immediately after the walk to complete a given writing exercise. This task aims to connect the participants with nature. They are encouraged to write about what is seen, heard and smelled, and to write stories, feelings or memories based on the nature encounter. This is also an exercise which aims to open up reflection and strengthen the formulating capacity. It is helpful to have access to natural surroundings but a session does not have to take place in the wilderness. Nature is everywhere and sunlight, the weather, a plant bursting through the pavement and urban gardens are as valid as the most remote wilderness.
Finally, there is a shared reading of a short story interspersed with group discussion, and the session ends with a poem. The selection and reading of short stories and poems aligns with the principles of the organisation The Reader (2017), and participants are invited to exchange and accept different points of view and to highlight the impact literature can have.
At the end of the workshop participants will have engaged in sensing, describing, reflecting and expressing their thoughts and will have also supported others in this experience.
Pilot test – sign of a powerful tool
Your World in Words is based on research as well as on the personal and professional experience of the authors. However, taking an idea to the point of working with young people who might be vulnerable because of their life experience is a serious step. Before developing further proposals for research and implementation with young people we ran a pilot session with social work practitioners and academics. Every participant had knowledge of working with vulnerable groups including children, families and people who have (directly or indirectly) experienced substance abuse.
The session was held in April 2018 at Dundee Botanic Garden.
The participants already knew each other to some degree, and so it was hoped they would be able to engage in the session quickly. The session followed the format outlined above. Participants were asked to complete a feedback form immediately after the session, and follow-up interviews gathered more detailed feedback.
Overall the participants enjoyed the session far more than they had expected to. They reported feeling the session had been mentally stimulating and that it was therapeutic to take time out of their busy work-focused lives and to reflect and be creative. Although all the participants had experience of professional writing (reports, case notes and academic articles), they felt it challenging to share their creative writing. However, they overcame this and appreciated how the green setting brought out inspiration and supported the feeling of a safe space. They were surprised at how it also brought out emotions.
Quotes of the participants
'I think the elements [nature, creative writing and shared reading] work together. Exposure to nature gives inspiration – a safe starting point for creativity that would not be available with blank walls and pages.
The guided reading was a good way to allow people to think about different perspectives.
Really appreciated the approach – encouraging, and no "wrong" answer.'
Sharing the writing was difficult. I was aware of an internal barrier, and appreciated the opportunity to take another step into a more creative side!
It was pointed out by several participants that the session should not be used as a therapeutic tool by itself. If the session was to be held for deeply traumatised young people, they felt a therapist should be present at the sessions. The aim of Your World in Words is not to use this as a trauma therapy; it is about enabling people to connect with nature and the written word. However, it is recognised that there is potential for the sessions to trigger emotions and issues that may need referral to other resources.
Next step – growing connectedness
The pilot workshop showed that the project can support individual ways of expressions. Even when feeling vulnerable the green setting gave a sense of a safe space and source of inspiration. Sharing the experience and being able to freely express their point of views on a shared story and poem opened up space for personal expressions.
Both our experience and the pilot indicated that a series of sessions would work better than a single event. This structure gives an opportunity to develop the group dynamics and allows people to grow in confidence, as they gradually feel more comfortable.
We believe that throughout life it is possible to create new, strong connections with nature, as well as with people and ourselves. We aim to support young people who are experiencing challenges in their life to find their own words to express their views and to find their own route to feel connected to nature.
The next stage is to run the Your World in Words workshops for a group of young people and to evaluate their experience including their nature connectedness. This process will be supported by Pamela Candea, founder of the community interest company The Surefoot Effect, who has expertise in the field of personal resilience and nature reconnection. Funding opportunities and collaboration with existing projects working with young people are being explored.
Your World in Words is in the early stages of development, but the indicators are that it is beneficial for individuals, helping them to engage in reflection and creative writing and enjoy connecting with nature. We are pleased with our early findings and, as we take our project to the next stage, we look forward to exploring how children and young people experience the workshops.
References
Bennion J, Olsen B (2002) Wilderness writing: using personal narrative to enhance outdoor experience. The Journal of Experiential Education 25(1) 239–246.
Braun T, Dierkes P (2017) Connecting students to nature – how intensity of nature experience and student age influence the success of outdoor education programs. Environmental Education Research 23 (7) 937–949.
Buchholtz G (2018) Presentation of Your World in Words at the International Conference on Ecocriticism and Environmental Studies, London Centre for Interdisciplinary Research, October 20.
Fleming P (2018) Nature as therapy: Is nature-connection the antidote to the stresses and impacts of contemporary life? The Journal of Holistic Healthcare 15 (1) 21–24.
Gardner P, Kuzich S (2017) Green writing: the influence of natural spaces on primary students' poetic writing in the UK and Australia. Cambridge Journal of Education, online July 5, 427–443 (accessed 17 January 2019)
Moss S (2012) Natural childhood. The National Trust. Available at: www.nationaltrust.org.uk/documents/read-our-natural-childhood[1]pdf (accessed 15 February 2019).
North Carolina State University (2012) Benefits of connecting children with nature: why naturalize outdoor learning environments. Available at: www.naturalearning.org/sites/default/files/Benefits%20of% 20Connecting%20Children%20with%20Nature_InfoSheet.pdf (accessed 17 January 2019)
Polley M, Kovandzic M (2017) Evaluation of the Reading Well for Young People Scheme. London: University of Westminster. Available at: https://westminsterresearch.westminster.ac.uk/item/q27yv/ evaluation-of-the-reading-well-books-on-prescription-shelf-help[1]scheme-for-young-people (accessed 15 February 2019).
Science Daily (2017) Global impact of urbanization threatening world's biodiversity and natural resources. Available at: www.sciencedaily.com/releases/2008/06/080610182856.htm (accessed 17 January 2019).
Sydney University (2015 Creative writing boosts kids' confidence and creativity. Available at: https://sydney.edu.au/news-opinion/news/2015/ 10/20/creative-writing-boosts-kids-confidence-and-creativity.html (accessed 17 January 2019).
The Reader (2017) Available at: www.thereader.org.uk (accessed 17 January 2019).
Williams MA (2013) Securing nature's future. Ecologist – The Journal for the Post-Industrial Age, online April 4. Available at: https:// theecologist.org/2013/apr/04/securing-natures-future (accessed 17 January 2019).