The pilgrimage to Santiago – the talking walking cure
Paul Donovanm, CEO, CH Foundation
Published in JHH15.2 – Healing Journeys
After a 35-year career in business, building and leading major businesses, I am now actively engaged in the world of philanthropy. I first became interested in the how increased awareness around 'total health' can improve performance and the ability to bounce back from adversity when I became a member of the advisory board at the University of Westminster Centre for Resilience. Only then did I realise the profound effect that an experience such as the pilgrimage to Santiago can have, feeding the body and the spirit in equal measure.
As a typical pilgrim you are recognisable by your boots, backpack and scallop shell Click To Tweet The Camino of St James is the world famous pilgrimage route that begins at St Jean Pied de Port in France. It crosses the Pyrenees and passes through northern Spain before ending after 780 kilometers at the shrine of the apostle St James the Great in the cathedral of Santiago de Compostela in Galicia. Centuries old, and part of a wider network of religious routes, it is undertaken today by around 200,000 'pilgrims' of all ages and nationalities, who travel on foot, bicycle or even by horse.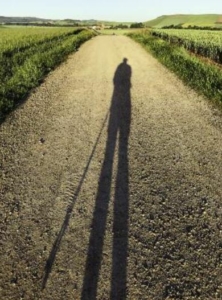 I became a pilgrim in 2012. I had just completed a stressful overseas posting as a CEO, and at the age of 54 I felt that I needed to take personal stock, and to work out what I really wanted from life. Since completing the 800km to Santiago I have tackled another part of the network from le Puy en Valay to Conques in France, and have repeated the two-week stretch from St Jean Pied de Port to Bourgos. Clearly for me it meets a need! But only now have I begun to truly understand the unique contribution that the Camino can make to personal wellbeing.
Many undertake the pilgrimage for religious or spiritual reasons, but the majority are simply seeking clarity or meaning in their lives. A minority are simply walkers whose motivations are health related or simply cultural.
It's been said that every experience changes who we are, and the more intense the experience the greater the change. For me, the prospect of setting off alone, walking 25km every day for around five weeks, carrying all my belongings in a rucksack and staying in basic shared accommodation, was daunting. But the reality was an unforgettable and transformative experience.
The walking cure
I'd describe the Camino recipe as a holistic one. Its value comes from the combination of extended physical exercise and immersion in an experience rich in rituals. This somehow creates a strong sense of purpose, of connection and belonging. I now feel that its uniqueness may even provide a formula for greater personal resilience in the face of the pressures of modern day life.
There are clear health benefits from a long-term bout of high-volume, low-intensity exercise. After the initial trial of a 27km walk/climb over the Pyrenees on day one, it was amazing how quickly my body habituated to the demands of walking this distance every day. And if I ever needed proof, it came in the form of an 80-year-old Italian man I met, who was slowly walking his fifth Camino from Rome to Santiago!
As for scientific reassurance, there is clear evidence that pilgrims' body weight, blood pressure and fitness all improve. Given that walking with a pack burns off around 4,500 kcal a day it's not surprising that anyone a few pounds overweight can shed the equivalent of their back[1]pack in weight over a month or so. Other research has shown that pilgrims' HDL (good) cholesterol goes up and their LDL (bad) cholesterol down. So as long as you can keep blister-free (try rubbing Vicks Vaporub on your feet each morning) and don't fall over going downhill, you'll be OK. Group exercise and social support are also predictors of exercise adherence, making it more likely you'll keep going if you stick with your fellow pilgrims. Then there's a rush of endorphins released each day by the satisfaction of reaching physical goals previously felt to be impossible. No wonder that walking is good for you! Like all rites of passage the Camino is packed with symbols and rituals at literally every turn, and it was as I found myself embracing the history and the meaning of the Camino that unexpected mental benefits surfaced.
Preparation
The first aspect of the Camino experience is personal separation from everyday life. The process of preparation and planning for a considerable time away from home, and reducing my belongings to no more than will fit into a backpack challenged my perceptions as to what is 'necessary'.
Then there was the question of whether I would walk alone or take a friend. It's estimated that two out of three people on the Camino begin the journey alone, the other third as couples, and just a few – maybe 5% – go in groups of two or more. I have walked alone twice and once in a group of three. But for me, walking alone has been a richer, more challenging experience, one that made me more open to new experiences, to meeting new people and to the personal risk of disclosure, which for me has been an essential ingredient in self-discovery.
Finally there is the question of cutting the digital cord with everyday life. My own dependence decreased significantly: I had agreed with my wife that I would call home just once a week. Those who wear earphones to shut out the world on their daily commute soon come to understand that experiencing the sounds of nature and conversing with their fellow humans is infinitely more enriching than listening to music. That said, going to sleep with an audio book in a dormitory filled with snoring pilgrims was sometimes a blessing!
Letting go
The second, transitional phase is about shedding social and professional roles. As a typical pilgrim you are recognisable by your boots, backpack and scallop shell. No one knows or is much interested in your background or social status. So people quickly begin to be accepted for who they are and for why they are making the journey. In this way intense feelings of social togetherness emerge. Pilgrims quickly open up to each other, often to provide consolation and support. For my part I formed some friendships which lasted the five weeks, and others which still endure today. Solo walkers quickly join their 'Camino family', a loose group who will often stay together for parts or sometimes the whole journey. If you become disenchanted with someone there is always the simple expedient of getting up an hour earlier and walking a few kilometers more than them that day!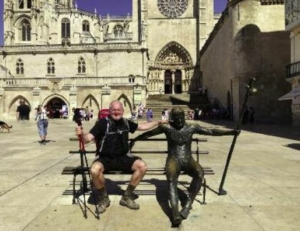 When physical hardship is supported by the group even the frailest of individuals can display remarkable feats of endurance. Encouragement from others to 'keep going' on the Camino in the face of blisters, injury or fatigue is something every pilgrim will recognise. This enhanced sense of kinship affects the way complete strangers are treated: coming from a world where we often don't know our neighbours, such closeness became a real source of pleasure. And because feeling supported helps us cope with adversity, small random acts of kindness can be a boon. On return from the Camino many pilgrims feel they can cope better and feel a renewed commitment to building a stronger sense of community.
Even avowedly non-religious pilgrims adopt religious rituals. Milestones and other special places are often littered with piles of stones, representing the loss of sorrow. The Camino is also punctuated by large numbers of wayside crosses and chapels offering moments of quiet respite from the rigours of the journey. The Cruz Ferro – iron cross – at the highest point in the journey is a favoured location for leaving a personal memento or a tribute to a loved one.
But the most common ritual is to greet pilgrims with the cheery phrase 'buen Camino!' which I would hear dozens of times each day from fellow walkers and the locals.
The 'letting go' of everyday life can also mean that personal conflicts which may have been neglected or repressed come to the fore. The intensity of time spent with others – on the one hand sleeping in crowded communal dormitories but also walking alone in silence – somehow forces an inward focus. The rhythm of walking also gives rise to self-insights. Many commentators have observed that the positive effects of the Camino on wellbeing and self-esteem appear to be long-lasting. My own experience resulted in both a significant change in my long-term personal ambitions and a sense of confidence in the future.
In the final few days of the walk I felt overcome not so much by the prospect of an exuberant arrival at Santiago de Compostela but more by my contemplation of the future beyond. Entering the cathedral I was aware of taking part in history as I placed my hand on the stone doorframe which has been worn away by the touch of the millions who have preceded me. As I sat in silence I began to cry uncontrollably. To this day I honestly can't say exactly why, but I did so without embarrassment and somehow felt cleansed and renewed as a result.
The final act for many is the pilgrim mass which takes place each day. This amazing piece of theatre is the ritual burning of incense. Powered by a team of clerics manning long ropes, an enormous bronze thurible known as the Botafumeira swings like a giant pendulum emitting a haze of smoke that fills the enormous space; a truly fitting ending to a long journey.
The physical proof of having completed the pilgrimage is the Compostela. This certificate in Latin is issued on the spot by the Cathedral of Santiago after due scrutiny of the pilgrims' actual journey. Mine sits in pride of place in my study at home.
For some the urge to walk on was unstoppable, and a good number make the final 80km onward to Finisterre – literally the end of the world. There, I'm told, many take a final run naked into the sea and burn their pilgrimage clothing on the beach – weather dependent I assume!
The return
The process of return and re-integration into everyday life and to circumstances that are still the same, isn't an easy one. I know that I struggled to share with others and relate the depth of my experiences on the Camino. I found it very difficult to cope with crowded and noisy places for several months, and would often seek comfort in long country walks.
Freud described psychotherapy as the 'talking cure'. The holistic benefits of the Camino for me were undoubted. I returned fitter, more focused, more mindful and determined to connect more deeply with others. For me it provided the 'walking, talking cure.