Simon Hall, GP trainee, academic clinical fellow & visual artist
Published in JHH17.2 – Mind-body self-care
My first year in college I began using poster board and paints to draw circles and fill them in. I used my hands like finger paints and created masses of circles. I did not name or have any other thought about the circles except I HAD to make them.Years later when I completed three master's degrees in counseling and theology I would do retreats and part of what the participants did was make circles and talk about how they felt.When I discovered Carl Jung's work in mandala making, I was at home. I understood what I was creating and why. I now work with students, faculty, patients and colleagues creating mandalas and using them for integrative psychotherapy. If anyone in interested in the history, philosophy, or what we do using mandala therapy as an integrative technique please go the website www.drkathleenquinn.com
Part 1 – Reflection
Reflections from the Covid-19 ward
Glancing back at Geoff's chest X-ray, white fluffy infiltrates cloud between his ribs and now blur his already partly fluid-filled lung. He's been with us after his complex surgery for two months now and slowly recovering after an ICU stay. But after a rollercoaster inpatient journey he had recently been turning a corner. Geoff's wife visits most days. Their sense of humour and calmness in adversity shine through and as the weeks roll by the team can't help but smile when we talk about them.
The news is changing quickly and rumours of a lock[1]down ripple among the staff. It's already happened in other countries and seems inevitable now, but there remains a disconnect from what is waiting on our doorstep. A small number of confirmed cases are already in the hospital, but when Geoff dropped his oxygen saturations, probability says it's pulmonary oedema or yet another pneumonia. Common things are common as they say. His Covid swab is finally back. Clicking off his X-ray my colleague and I hover over the result and nervously open it. We look at each other speechless for a few moments as it says in large red capital letters, POSITIVE – the first in our department. That day Geoff is transferred to the respiratory ward where Covid patients are being cared for. His wife is not allowed to visit because of the new hospital policy fearing transmission of the poorly understood virus. Two weeks later Geoff has died.
A month later, I have been redeployed to the same ward. The outside world is a ghost town getting to grips with a lockdown and in the hospital our work environment is unrecognisable. The large corridors and atria are empty of visitors, a large proportion of elective care has been stopped and clinical staff have been rushed into new roles. In the acute services Covid cases pour in. Our motley crew of redeployed doctors look down the morning board round list together at the unwell patients who are struggling to breathe. Our beds are full and a number of them require ventilation to stop their lungs drowning. We are told there is a lack of supply of our current fitted masks.
Being the high-care respiratory ward, most days intensive care have been attending the ward to review our patients who can't breathe on their own and whisk many away. They are here again as we do our rounds in uncomfortable PPE. A young adult with learning disabilities is desaturating and tiring. A nurse holds her hand and says it will be ok as the ICU registrar assesses her suitability – her mum is on video call ushering comforts before her daughter is wheeled away from the ward. In a room nearby, a previously fit and well man has been stepped down from ICU to our ward after being sedated, intubated and ventilated for three weeks. Several of his organ systems are dysfunctional, he has clots in his lungs and his heart was restarted. Unable to walk, struggling to form words and having flashbacks of recent events, his journey of rehabilitation has just begun. The complexity and post traumatic aftermath of Covid reveals itself as an unwelcome next chapter, but as the multi-disciplinary team members diligently flit in and out of his room each day he looks ever brighter and stronger.
End of life care has become a regular occurrence on the ward. I think back to when Geoff was wheeled away from our ward to this current one; 'I'll be back' he said with an uneasy smile. But that shadow hanging over the Covid ward in my mind is dispelled by being here and seeing the attentiveness in those final hours.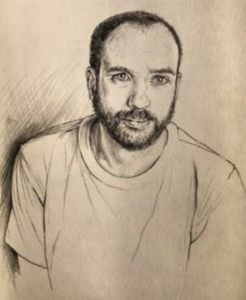 As the weeks push on, the hospital guidance is updated and next of kin are allowed onto wards for such moments. An elderly man is dying in the bay with only those in full body suits entering the vapour-heavy air of the ventilator temporarily slowing the process. His son is here and donned in PPE by the nurse before being settled into a quiet side room on the ward. We optimise his dad with medication to help him feel comfortable and detach the ventilator, before carefully moving him into the room with his son. With staff close by, the two spend the last minutes peacefully together with the son holding his dad's hand.
It's towards the end of the day and one of my patients is a care home manager who is waiting to go home. He looks at me and explains that over half of the staff are off sick and half of the residents have died from the disease. I find it difficult to imagine being in the shoes of those living and working there, fearing who will be next, feeling helpless and having no visitors. I try not to dwell. He's exhausted, but safe to return home to his family – I wish him well and help to answer his questions before he leaves. He's wheeled out of the double doors of the ward in a wheelchair. The ward clerk picks up a board rubber and wipes off the large green number on the whiteboard by the door surrounded by rainbows. She raises the tally of successful 'Covid discharges' from the ward by one and smiles back at us with her eyes from behind her mask.
Names have been changed for confidentiality. With thanks to the staff and patients at North Bristol NHS Trust.
 Part 2 – Arts engagement
Art in an emergency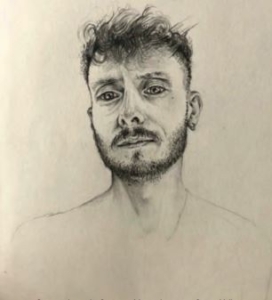 Reflecting back on the pandemic, the first wave presented uncertainty and a challenge for my own mental health and wellbeing. I would wash the day away on arriving home, but there remained a feeling of disconnection and sadness wedged between the intensity of narratives on the ward and the separation from others outside the hospital walls. During this time, as an arts practitioner it felt especially difficult to be motivated to create artwork, but perhaps as an outlet or distraction, I picked up a pencil and drew portraits in a small notebook. Whether the subjects be others or myself, the paper offered a welcome space to unwind and another lens to peer through. Looking back on such images, they are detailed pencil sketches with subjects looking straight out at the viewer – purposely small, contained and controlled. On reflection, perhaps they encapsulated a response to the contrasting turbulent inpatient experience. In a time of disconnection and as we find our feet again, looking to the arts feels ever more important to me as a way to navigate the past year, to share narratives and reconnect with others. Indeed, as writer Olivia Laing says in her recent collection of essays Funny Weather, considering art in our tempestuous times – 'We have to keep each other afloat, even when we can't touch. Art is a place where that can happen, where ideas and people are made welcome. It's a zone of enchantment as well as resistance, and it's open even now.