Margaret Hannah, Director of Health Programmes, International Futures Forum
Published in JHH15.3 – Social Prescribing
I have spent more than 20 years as a specialist in public health in NHS Fife, a Scottish health board which serves a population of 370,000 people. During this time, I realised the thinking which had led to huge gains in population health over 150 years was not proving powerful enough to tackle 21st century health challenges. Since the early 2000s, my links with International Futures Forum have enabled me to meet people with multiple perspectives, willing to share their thinking, which offered better possibilities. This led to work with public health colleagues called The Fifth Wave.
The H1 dominant pattern of healthcare was under strain and unlikely to be sustainable Click To Tweet
Introduction
The White Paper Liberating the NHS in 2010 from Andrew Lansley, newly arrived as Secretary of State at the Department of Health, was a missed opportunity. With flatline budgets for the NHS for the foreseeable future, increases in an elderly population with chronic and complex conditions and declining morale in the workforce, something radical was needed. Instead, the White Paper set out plans to increase marketisation in the NHS and became enshrined in law in 2013 as the Health and Social Care Act.
Today, the NHS in England endures the consequences of these decisions, struggling with waiting times, staff vacancies, deep financial deficits and a fragmented system with multiple providers and complex commissioning arrangements. Might there yet be hope that something different could emerge in Scotland, which abolished the purchase–provider split in 2003, yet is still facing many of the same challenges in terms of finance, workforce and changing patterns of disease? Might there be a way to sustain vital elements in the current system while growing a new one, better suited to the current and future operating environment? This paper sets out an example – the Fife SHINE Programme – from one health board area which aims to do just this.
Three horizons thinking
To understand how a different system can emerge, it is necessary to think about how patterns of activity rise to dominance, subsequently decline, and new ones take their place. We also need to consider how to manage the transition from an old system to a new one in ways which sustain the viability of the whole over time. One way of exploring this territory is to use the three horizons framework (see Figure 1). The framework describes three different patterns of activity taking place simultaneously to create a complex adaptive system.
The first horizon – H1 – is the dominant pattern at present. It represents 'business as usual'.
The third horizon – H3 – emerges as the long-term successor to business as usual and is much better fitted to the world that is emerging than the dominant H1 system.
The second horizon – H2 – is a pattern of transition activities and innovations, people trying things out in response to the ways in which the landscape is changing.
Without the 'pull' of H3 and a transition strategy to navigate the turbulence along the way, H2 innovation will inevitably be assimilated into the existing system. This might extend the life of H1 for a while, but increases the scale of the necessary transition before H3 can become the new dominant pattern.
Three horizons for healthcare
The origins of the Fife SHINE programme can be traced to a three horizons conversation in 2009 on winter planning for NHS Fife. The concern was a familiar one to many working in the NHS today, not just in the winter but the whole year round. It was noted that hospital pressures were high with older people in particular subject to delays in their discharge as they awaited suitable care at home. These delays led to further concerns about adverse health impacts: reduced scope for active rehabilitation, staying longer than necessary in unfamiliar surroundings, being exposed to risks of infection and falls. Added to these concerns was acknowledgment that staff were feeling worn down by the seemingly inexorable rise in demand at the front door of the hospital. These concerns represented the signs that the H1 dominant pattern of healthcare was under strain and unlikely to be sustainable through many more winters in its current form.
The conversation also revealed an aspirational vision (H3) of a very different, all-pervasive pattern of care, based on an understanding that solutions were to be found outside the conventional system, driven by what people needed in their lives to 'help them thrive, not just survive'. The Nuka system of care in Alaska was identified as a living example of this vision operating at scale (H3 in the present). The word Nuka means a large living system and describes the system developed by the Alaskan Native people to create a pattern of healthcare shaped by the quality of relationships between its participants. Deeper study of the approach convinced the pioneers in Fife that the shift in culture they had imagined was indeed possible in practice and at scale (Hannah, 2014).
Changing the conversation
The Fife SHINE Programme began by changing the conversation with older people to focus on life and relationship rather than infirmity, and to identify what it would take to enable them to thrive at home. Community health and care staff (including third-sector providers) were introduced to the concept of personal outcomes – allowing people to describe what was important to them in their lives. They were trained to use a solution-focused approach (good conversations) with patients who had been discharged from hospital or referred by their GP for additional home-based support. In these conversations they explored ways in which personal outcomes could be achieved. That frequently involved reconnecting with friends, family, neighbours and the local community.
In addition, the programme aimed to identify and stimulate a new network of local 'micro-providers' of support to cater to the range of personal and bespoke needs revealed in the process. These micro-providers were small-scale and local (up to five people working in them) and ranged from purely voluntary activity such as lunch and sports clubs to formal social enterprises such as shopping services or community transport operators.
In 2010 The Health Foundation opened a grant programme called Shine inviting innovative 'invest to save' proposals. Fife won one-year funding and began its work in 2011.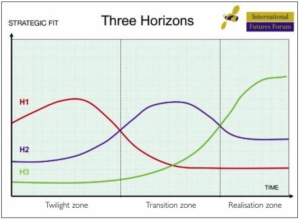 From small beginnings
It was very slow work at the beginning. In the first year just six older people completed the process from engaging in a different conversation to identifying and achieving their personal outcome, often involving local micro-providers in the process.
However the small number disguised the fact that the families and staff involved were amazed. Stories such as, 'You're the first person who has really listened to mum', from her daughter; 'I feel human again' from a patient, and 'You forget your aches and pains when you are involved in something worthwhile' from a micro-provider suggested something remarkable was taking place. The approach seemed to be life-enhancing for those willing to give it a go.
Over the next five years, the programme has scaled by a factor of 10 each year and now reaches more than 30,000 people in Fife across different services and agencies. A shift in the pattern of care has gathered strength year by year and is now, at least in the area of older people receiving care in the community, almost pervasive. After the funding from The Health Foundation ended, the work kept going hand-to-mouth. The part-time programme manager and clinical champion roles were eventually funded from mainstream budgets. During this time, beyond the NHS, social work has also funded several community link workers (local area co-ordinators); created an online directory of local voluntary sector activity (On Your Doorstep) which is used by staff when they are having personal outcome conversations; and provided a small-scale voluntary projects (Small Sparks) fund.
Managing the turbulent transition
What kept the small team of innovators going? After all, by any standard measures the first year results failed to demonstrate any tangible impact on service or funding pressures. The answer lay with the stories from patients and families about achieving life goals in ways that surprised them and their professional carers. People were not looking for extravagant outcomes, but worthwhile activities which helped them feel connected, able to reciprocate in some way and feel valued as human beings. Staff and families were creating small pockets of the third horizon pattern in the midst of the first horizon system.
The programme aimed to identify and stimulate a new network of local 'micro-providers'
Breaking out of the old pattern meant questioning assumptions about evaluating success and about spreading and scaling innovation. Growing a new pattern had to take into account the ongoing changes in the old pattern (H1 decline), opportunities for gathering momentum and building alliances (H2 activity) and challenges from alternative versions of H3, out of line with the aspirations of local people. Fundamental to success was a requirement to learn at every level of the programme, from reflective practice for individual staff members, peer support for teams and services, gathering patient stories using routine processes, annual learning events for stakeholders and working with researchers and evaluators interested to come alongside the programme as fellow learners.
Gradually, local systems have begun to adapt and shift to support the new pattern. Standard documentation includes personal outcomes and processes for the regular review of progress. Care pathways have evolved to create opportunities for this personal outcomes approach when the patient or client's needs are too complex for a single disease or service response. Examples include patients referred to musculo-skeletal physiotherapy with chronic issues, patients attending neurology clinics with functional symptoms and 'high health gain' patients requiring complex case management.
Patterns shift when mindsets change
This is not just about scaling up an innovation. The change is more profound. For the third horizon to grow beyond the work of a small team of innovators, the whole mindset of people working in the system needs to change. After three years of working in this new way, it became clear that people involved were thinking differently as shown in Table 1, overleaf.
Such a deep shift in mindset can only come through lived experience of working in a different way, supported by others, reflecting and learning with them and seeing the transformation in people's lives that results.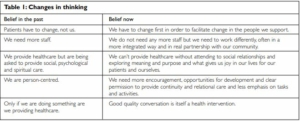 Outcomes for Fife
While it is impossible in such a complex, dynamic change process to attribute cause and effect, it is worth noting that NHS Fife is today, in spite of testing circumstances familiar across the UK, a high-performing health board with top quartile performance for waiting times across most indicators. More importantly perhaps, during the last severe winter, with flu pressures to contend with and the acute challenge of the 'beast from the east', the system as a whole has shown its resilience in bouncing back quickly to its previous high performance levels.
A comprehensive case study of the SHINE programme has recently been published by International Futures Forum (Leicester, 2018). It explores the conceptual architecture that underpins this conscious initiative in systems change, records the progress year by year and the lessons learned at each stage of the journey. It concludes with general lessons derived for practitioners in health and social care interested in following this approach to shifting the dominant pattern and policy-makers or funders wishing to encourage and support such approaches.
Most interesting, however, might be the chapter on 'the last mile' – an exploration of what it might take at this point to make this H3 innovation, which started at such small scale back in 2011, the new dominant H1 pattern. At that point this innovation in the system will become an innovation of the system and proof positive that even as the NHS struggles we do have a plausible Plan B. There is hope. Watch this space.
References
Hannah M (2014) Humanising healthcare: patterns of hope for a system under strain. Charmouth: Triarchy Press.
Leicester G (2018) Shine: changing the culture of care. A case study of systems change in health and social care. Fife: International Futures Forum.