Pilgrimage as a pathway to healing for humans
Mandy Pullen, Eco shamanic practitioner
Published in JHH15.2 – Healing Journeys
I am an eco shamanic practitioner based on the edge of the Forest of Dean in Gloucestershire. I run workshops, courses and trainings in the subject of eco shamanism and have been practicing shamanism since 2007, completing a shamanic practitioner training in 2009. I have an eclectic background – in the 1990s I set up and ran one of the first vegetable box schemes and introduced the first salad 'bags' onto the market. I have also taught classical, jazz and contemporary piano and singing. In the last few years I have developed a new way forward in shamanism called eco shamanism which takes into account our changing consciousness of our Earth. I work with others in the fields of pilgrimage, plant spirit, eco linguistics and poetry. I run a private practice from my home where my eco mapping therapy, the subject of this article, is based.
For healing to happen during pilgrimage I have found that we have to put ourselves into the landscape and somehow bring the landscape in to ourselves Click To Tweet The art of pilgrimage in the 21st century is having a bit of a renaissance – the word has come back into our vocabulary and has certainly been popularised by the recent upsurge of pilgrims who seek to walk the Camino de Santiago, an age-old route that passes from the Pyrenees across the north of Spain to the Cathedral of Santiago de Compostela. As I write there has even been a three-part documentary following a group of minor celebrities as they walked the length of it.
Generally speaking a pilgrimage is a journey to a sacred site or a journey which encompasses a religious or moral belief. Yet it is so much more. Modern pilgrimage has a much wider brief these days and it is often used to describe an individual's or a group's journey from one place to the next to honour the path itself or to give meaning to an activity, whether that has religious or spiritual connotations or something else entirely. My inter[1]pretation would be to seek out the energies of a place or path and to walk it with intent to heal it, to work with it, to become one with that which is other than human. Some of the work I'm involved with goes beyond the need to heal humans in that it may deal with land that is itself in need of healing. Added to this is also the opportunity of course, in following these intentions, to heal ourselves. The word spirit can be attached yet it can put some people off. In terms of a healing journey using the word 'pilgrimage' rather than 'spiritual journey' may be the decider in terms of someone's belief that they are taking a journey in order to heal.
In my practice, pilgrimage doesn't have to be about distance achieved, nor does it insist on having a well[1]known destination, sacred or otherwise. It does, however, need an intention; and this I believe is the key to the healing power of pilgrimage. It also distinguishes it from merely 'going for a walk'. For healing to happen during pilgrimage I have found that we have to put ourselves into the landscape and somehow bring the landscape in to ourselves, and so create a reconnection to our environment that I believe is dangerously lacking in human awareness at this time. Could it be that many physical and mental illnesses stem from this disconnection, from seeing ourselves as separate from the very world we inhabit? It seems to me that in our culture and society we see ourselves as entities that exist on Earth rather than in it or of it.
Pilgrimage as a healing tool in psychotherapy practice
Individual clients arrive with different needs. They may be seeking a physical, emotional, psychological and/or spiritual healing. They may already be getting help from other professionals, but sometimes they come to me first; all this depends very much on their beliefs.
In my toolkit I have a practice that I call 'eco mapping'. This simply means allowing the environment to provide a map for the healing process. In eco mapping the client does the work while the practitioner holds space, perhaps posing questions and inviting the 'outside' to come forward to help the individual. Eco mapping implies a spirit of pilgrimage in that I take people out into natural environments where the 'walking' element is arranged into four phases. We begin by walking and seeking the intention needed for the healing. Once this is established the second step involves passing through, or across, a 'threshold' – a stile, a river or stream, perhaps the entrance to a wood. As we walk on we stay open to signs, signals, portents, synchronicities that might attract us or have some meaning. This second phase is done in silence using all five senses to gather information, so that my client begins to sense the 'out there' arriving 'inside'. Generally the client will walk ahead while I aim to avoid overt interference. When the client's attention has been 'caught' by something in particular we enter the third phase. We explore it through our five senses and with a curiosity as to why it caught the client's attention, and how this might relate to the original intention. Quite often, an extraordinary sense of healing, or understanding, unfolds. When this happens it is as if the 'outside' provides the answers that are 'inside' as an almost direct and healing revelation from nature. In the fourth phase we return, retracing our steps, noticing other signs. Often they seem confirmatory, and will lead us into discussing how to go forward on further journeys.
I see pilgrimage – an ancient but sometimes loaded word – becoming ever more accessible and relevant to holistic healing. And I firmly believe that most healing, professionals are there primarily to guide those who seek it: that the practitioner doesn't actually do the healing. In eco mapping the client does the work while the practitioner holds space, poses questions and allows the 'outside' to come forward and help the individual.
Here is an example – to protect the client's identity I'll call him Jim.
Jim recently came to see me wanting to find out how to deal with his partner's request for an 'open relation[1]ship'. Essentially this had knocked the stuffing out of him and left him with entangled questions that were causing him a lot of anxiety. He felt trapped and confused, aware that his normal healthy eating habits were slipping, that his sleep patterns were disturbed and that he felt disempowered.
I see pilgrimage becoming ever more accessible and relevant to holistic healing
At my home we began the first phase of conversation to sort out our intention. This continued as we drove a short distance to a path in landscape I know well. We walked a little then paused at a particular stile to make sure, before crossing this threshold, that Jim understood the process and his intention, which was to seek clarity about his partner's decision. In the second phase Jim walked slowly ahead stopping when a couple of horses in a neighbouring field suddenly kicked up a rumpus. He continued into the mist which was in itself, he commented, symbolic of his confusion. A seagull squawked some distance away and Jim caught sight of it as it flew through the mist, circling him and then moving on. Jim commented on this during our later discussion. We continued into an unmanaged wood where Jim stopped at an old tree stump covered in mosses and lichens. As he seemed to have arrived where he needed to be, I joined him. We got down on our hands and knees and explored the stump in detail, until at one point we were looking at it as though it were a sheer green rockface rising out of tropical jungle. I asked him which route he would take if he were to climb the rockface. (At this point he told me that he was a rock climber!) He chose the easiest route that was a long and sloping buttress. I asked him to look at all the other routes he could climb. Exploring the possibilities, he traced other ways with his fingers. As I brought his attention back to his intention he immediately saw that there were many routes through his dilemma. So we turned to another rockface on the other side of the stump and as we explored it Jim realised that he had felt he had no say or control in his partner's decision. Yet he was seeing, through the green mossy tree trunk, that he too had options: that if his partner wanted to bring someone else into her life then he could continue his relationship with his partner and have other relationships too. Yet his vision extended way beyond sexual partners; that his need for human contact, love and support – something he had narrowed down to his partner – might come from many people. After some further exploration of the tree stump I asked Jim if he noticed anything different now that he had come to this awakening. He replied that the birds seemed to be singing much more than when he had approached the stump and that a gentle rain had begun to fall. He could see further in the woods now he was out of the mist and as we made our return his walk was faster and he was enthusiastic about how his life was more than his relationship with his partner.
Jim left in good spirits with a plan. His pilgrimage was not defined by how far he had walked nor really by where he had walked. It was defined by setting an intention, letting his feet take him to where he needed to be and in the process allowing the 'outside' in
In another example a client needed to talk more before the pilgrimage. I will call her Alice.
Alice, a health professional, contacted me with a problem she had sought to address with several psychotherapists. She spoke of her physical illnesses which had caused unfounded cancer scares, and even led to surgery. She had seen a variety of alternative therapists too, all to no avail. She believed there was something much deeper that lay at the heart of her troubles. We discussed her problem at length and it wove its way, even[1]tually, to her mother who, Alice suggested, was a forceful and scary woman who had left her husband when Alice was very young. Her mother had essentially made Alice, and her sister feel responsible for everything that happened and as a result Alice had always put everyone else first and, if there was a problem, felt she was responsi[1]ble for it, or was at fault in some way. Alice was visibly upset leading up to this revelation and was very vulnerable and open. Once she had gathered herself together I took her out on a walk into the fields and woods.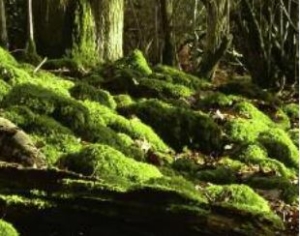 We practiced the same format as the previous example but Alice walked quite quickly into the wood without much more ado. Once there she soon stopped at a fallen tree lying horizontally at about waist height. The tree was definitely dead but the ivy growing along it was very much alive. Alice mentioned a sign she had read on the way which said 'Private – keep out' and said she felt thankful that the sign was so clear and she didn't have to make a decision about it. She also spoke of two lambs in a field on their own which hadn't run away like previous lambs had done. She said they seemed to represent her sister and herself – facing the world without help from their mother. Then she held the tree and said she 'felt for it' and found it sad. We talked about the dead tree and the living ivy and in that moment Alice suddenly blurted out 'I'm not responsible for the dead tree and I can go on living despite its demise, it's not my fault'. This felt like a huge outburst for Alice, one that she had never dared utter. We carried our dialogue on and, after some discussion as Alice seemed to become happier and bolder, we returned home.
The experience of entering into a conversation between natural beings is in itself healing
A few days later Alice sent me an email saying, 'All is really well. There was a moment when old patterns might have surfaced and I found myself saying out loud, to no[1]one in particular, "But that's not my responsibility". I was standing near a mirror at the time and having those words emerge from my mouth brought a smile to my face, which I caught sight of in the mirror. How empowering!'
What strikes me is that despite all my interactions with Alice, it was the egoless and non[1]judgemental dead tree that gave her the key. After our initial discussion I allowed her to lead the walk, and to make her subsequent choice of a dead tree with its cover of living ivy. In such simple acts of pilgrimage the embodied permission to find meaningful objects can allow space for an individual to find their own answers and to catalyse their own healing. As Alice said to herself, 'How empowering!'
Our current disconnection from the land is a blip in human history
Although this work is often called 'ecotherapy' I believe there are aspects of landscape that can help us to heal; not because nature has some mysterious benign power, but because the experience of entering into a conversation between natural beings is in itself healing. Techniques such as intentional pilgrimage help us reconnect to a larger sense of ourselves. Yet modern pilgrimage feels like a returning to an ancient way of noticing the synchronicities in the land when walking through it with intent. This is something I am sure our ancestors were well practiced in. Our current disconnection from the land is a blip in human history. I hope that in the future we will re-establish a deep awareness of being one with the land and that the return of the pilgrim's mindset will be one of the ways we rediscover our timeless connectedness.