Nurturing childhood resilience
Luke Harrison, Nature Nurture group leader
Terri Harrison, Co-founder, Nature Nurture Project
Published in JHH14.1 – Children's Health
I joined the project full time in 2015. I run the 8–11s programme in Camphill School Aberdeen and work as a team member in the under 5s and 5–8s programmes. I am also responsible for the project's photography and filming, and for maintaining Nature Nurture's social media presence. I have more than nine years' experience working with children and young adults with additional support needs.
Luke Harrison
I was instrumental in the creation and establishment of the Nature Nurture approach, currently acting as a project co-ordinator and group leader. I am also responsible for delivering regular training and CPD sessions for Nature Nurture staff. Before beginning Nature Nurture, I was a teacher and ran residential units in Camphill School Aberdeen. I run training in outdoor learning and play throughout the UK and have been a tutor on a Forest School training course for the past three years.
Terri Harrison
Nature has intrinsic restorative qualities which hold unique value for each individual Click To Tweet
The Nature Nurture Project
The Nature Nurture Project emerged at a time when understandings of the intrinsic health benefits of nature and outdoor education were still coming to the fore. As a result, the project was one of the first outdoor early intervention schemes for children in the United Kingdom.
Established in 2009 by a group of passionate childcare professionals, The Nature Nurture project began running initial pilot sessions in collaboration with Camphill School Aberdeen and Aberdeen City Council. The project aimed to work with Aberdeen's most vulnerable children and offer them a natural environment within which to promote and nurture the growth of resilience. After receiving substantial funding from the Scottish Government through the Go Play Project, the project's co-ordinators, Terri and Daniel Harrison, have expanded and developed Nature Nurture's care provision, offering programmes for primary-aged children.
The Nature Nurture approach can be described as a holistic therapeutic intervention which uses the restorative effects of natural outdoor environments, nurturing relationships and child-led play. In the seven years since the project began, we have facilitated the growth of resilience and wellbeing in hundreds of young children in Aberdeen.
Our understanding of the child
The Nature Nurture project was founded on a clear set of under[1]standings of the individual. They can be described as assumptions of being; particular ways of viewing each of the children we work with. These understandings have come to inform the Nature Nurture approach and the early intervention care we provide.
The Nature Nurture approach recognises the child as a whole being. That is to say, we are holistic in our approach to understanding and caring for children and their particular needs. We recognise the importance of considering all aspects of the child's existence and how these are necessarily inculcated in forming the human being that stands before us at any given time or place. Our model of resilience reflects this holistic vision, integrating the cognitive, emotional, physiological, social and creative aspects of the child's life.
The Nature Nurture approach recognises the child as a unique being. In this way, children are seen to be unique experiential learners, actively involved in constructing meaning from their experiences of the world. From this process of meaning making arises unique frames of reference which guide the child's understanding and way of being at any given time. In order to provide effective and meaningful care it is deemed essential to become attuned to each child and their unique ways of sensing, perceiving and learning.
The Nature Nurture approach recognises the child as a capable being. By this we mean that children have the ability to become conscious of themselves, affect meaningful choice and actively shape the direction of their own lives. We hold that within every child resides the innate propensity and resources for self-directed growth and development. The child's recognition of these intrinsic self-qualities is made possible by a particular therapeutic climate of facilitation.
 Nature, nurture, play = resilience
With these core assumptions of being at the heart of the Nature Nurture approach, our aim is to nurture the resilient being and seek to place the child at the forefront of this endeavour. The resilient child is recognised as being self-aware and in equilibrium, confident in their feelings and resultant actions, empathic and sensitive in their interpersonal communications and connections with the world and creative and open in their thinking. Resilience is defined ultimately as 'the mental, emotional and physical fortitude to recover from adversity and realise potential'.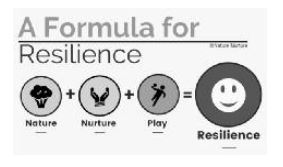 Over the seven years that Nature Nurture has been running we have developed an understanding of the environmental conditions which promote wellbeing and resilience. Through close and concise observation of children and the continuous evaluation of the care outcomes associated with their time at Nature Nurture, we have put forward a model for an effective therapeutic climate.
We argue that if children have access to natural environments, nurturing relationships and the freedom of child-led play, they tend to show marked self-directed development in their resilience. This is known as the NNP=R formula.
So how can the elements of nature, nurture and play contribute to the promotion of wellbeing and resilience?
Nature has intrinsic restorative qualities which hold unique value for each individual. Being outside and active is integral to the work of facilitating wellbeing in children. Anxiety and stress are some of the most common states we witness in the children we receive. They come to us functioning to survive, driven by fight, flight or freeze responses to the world around them. In these hyper or hypo aroused states of stress, many of them have forgotten or are unable to recognise the sensation of being in a balanced or calm-alert state. After a short time spent in our outdoor spaces, however, children come to embody the restorative effects of nature. We have observed that simply being immersed in the grand systematic rhythms and flows of the natural world has a regulatory and calming quality. This paces the children and allows them the time to process and become conscious of themselves and others around them. In this self-affirming calm-alert state they are able to function with purpose and meaning.
Nurturing relationships are held to be the foundation upon which the child achieves resilience. The Nature Nurture approach is child-centred and nurturing refers to the facilitation of every child's growth[1]potential through fostering a growing self-awareness and recognition of unique value. This begins with the establishment of empathic and authentic relationships between child and adult which are based on respect and reciprocity. We have observed that even the most traumatised children have a purposeful directionality and when they can feel secure, respected and valued in their relationships they will grow and flourish, becoming aware of their strengths and vulnerabilities and actively seeking to learn through their experience.
Play is fun. It is this intrinsic value that we cherish most of all at Nature Nurture. Through the freedom of play, so many of our children are able to be themselves and experience enjoyment once more. But play has a plethora of health and wellbeing benefits and is a vehicle for physiological development, social competencies, self[1]discovery and creative expression. Play provides children with a self-constructed stage upon which to test out identities, ways of being and formulate meaning from real-world experience. The vast resources that nature provides along with close and attuned nurturing relationships mean that play meets the specific needs of each individual child. The natural spaces in which we play at Nature Nurture are challenging yet safe, stimulating yet relaxing, peaceful yet exciting. We actively encourage children to evaluate and risk assess their play environments. This is both to encourage awareness and respect for the natural world but also to give children an experience of self-worth and allow them to recognise their capability to manage risk in their own lives.
The seven building blocks of resilience
The Nature Nurture team needed concise methods for observing and evaluating the development of resilience promoted by the establishment of this therapeutic climate of facilitation. We set out to develop our own holistic model of resilience which could be used in several stages of developmental evaluation. The model divides resilience into seven clearly defined and yet interconnected domains.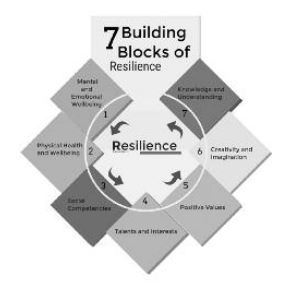 The seven domains and their respective set of indicators inform all evaluative tools we use in measuring resilience. Our evaluative process of the child comprises an initial base-line assessment, a continuous observational assessment, a mid-way evaluation, a final end of programme report. This process provides our staff and other professionals with a comparative overview of each child's development throughout the course of their time at Nature Nurture.
The structure and running of the project
The children are referred to Nature Nurture by education, health or social work professionals. These children are often traumatised or suffer significant stress or anxiety. Many come from families affected by substance misuse, alcohol abuse or domestic violence and have experienced a degree of neglect. Each programme is 10 to 15 weeks long, with children attending half-day sessions once a week. They are collected from home or school in our minibus. Children often stay with us for several programmes until they feel more resilient and the professionals in their lives can see significant improvement in their ability to cope with challenge and adversity.
Nature Nurture runs in the grounds of an independent school on the outskirts of Aberdeen. We have access to three woodlands, streams, a care farm, playgrounds and large grassy areas. At present the project is running three programmes: children under five, five to eight and eight to eleven. Each of our groups has their own unique site which suits the children's developmental needs.
Our youngest group has a small woodland which includes a sensory trail. The walk to and from the wood[1]land stays the same each session and incorporates physical challenges such as climbing a steep hill, practising road crossing skills on the quiet driveway, and balancing on stepping stones and logs. The children also like to stop and visit the sheep. Music and songs mark each transition throughout our journey. In the woods we explore and investigate, create sounds with musical instruments and engage in water play. There is a covered snack area in the woods where the children can sit together in a circle and share a snack of fresh fruit, delicious fruit bread made by a local baker, and either hot chocolate or juice.
The theme of journeying is continued in the 5 to 8- year-old group. The journey to the woodland site is longer and more challenging, but with lots of places to stop and play along the way. Our route includes a playground, a gentle slope for rolling down, a giant leaf pile, a yard with pigs, a barn with cows and a wild wood for collecting sticks. Our main site is beside a stream which the children love to play in. The children gather around a campfire area and discuss the ways in which we can keep ourselves safe around fire and throughout the site. We offer children the chance to help light the fire, create objects from natural materials using tools such as knives and saws, and learn how to tie knots and use rope.
The children in the 8 to 11-year-old group have a circular route around another campus. This route is more challenging and adventurous. It incorporates several locations such as a steep grassy slope with a rope swing, a vegetable and fruit garden, apple orchard, donkey paddock and coniferous and deciduous woodland. Our campsite is nestled in these woodlands. Our group gathers together around the fireplace and we go through the fire rules and assign tasks such as lighting the fire, collecting wood and helping to prepare snacks. Then the children move off to play on the muddy slopes and in permanent den constructions dotted around the forest. This is where the serious fun begins with adventurous and physically challenging games throughout the wood with the safe haven of the campfire to return to when children need a break or to catch their breath. We are there to teach the children bushcraft skills, identification of wildlife and crafts. The desire to learn these skills can arise from their game or a new interest developed through their natural curiosity about the environment they play in. We don't have a set agenda or plan to teach, but are always ready and alert to new or emerging talents and interests.
We don't have a set agenda or plan but are always alert to new or emerging talents and interests
The team at Nature Nurture has both full-time and voluntary staff. Our project co-ordinators and programme leaders are all forest school trained, with years of xperience working with children and young adults in various capacities. Our voluntary staff come to us from health, education and social work sectors. We strive to offer a one-to-two ratio for the children and ensure that new staff are supported in providing the specific care required. We also offer courses to other practitioners all over the UK to help them develop projects similar to Nature Nurture.
Practical outcomes – children's journeys
We have been fortunate to help support over 300 children and their families at Nature Nurture since the project began in 2009. We would like to share with you the unique journeys of three children we have worked with and observed in this time. It is hoped that these case studies will offer a clear indication of the self-directed development of resilience which the elements of nature, nurture and play make possible. We have chosen to focus on three areas of developing resilience which we feel have been most pronounced in each child's journey.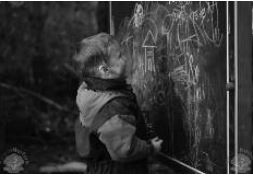 Brendon's journey
Sometimes we have the opportunity to accompany a child through an ever-evolving landscape of challenge and good fortune. Brendon is one such child who first came to us when he was just three years old. His mother had struggled with post-natal depression and was a victim of domestic abuse. As a result, he was taken out of his mother's care. Brendon stayed with us for one programme of Nature Nurture, after which we did not see him for several years. Thankfully he was re-referred to us when he began school at the age of five. By this time, he had returned home to live with his mother and her new partner and family life appeared to be more settled. His mother still struggled with some of the behaviour that Brendon displayed at home and in school and was carrying guilt for her absence in the early years of his life.
When Brendon returned to Nature Nurture, it was clear that he was a very anxious child who had little trust in the relationships he formed and lack of faith in his own abilities. Physically we could see that he was malnourished and lacked the stamina expected of a boy his age. Within the first few weeks with us, however, we could see how much he enjoyed the possibility of playing outdoors and carried a tentative enthusiasm for learning and developing his skills. Brendon has now been with us for four-and-a[1]half years and we have seen some incredible development in all seven domains of resilience in that time. We have chosen to focus on Brendon's development in the three domains of mental and emotional wellbeing, physical health and wellbeing and social competencies.
Brendon's anxiety was apparent in his flight or fight responses whenever he felt challenged. He balked at new situations and talked incessantly when he felt nervous. Nature Nurture helped him to feel safe by providing routines that were consistent yet flexible and responsive. Effecting clear boundaries has been important in developing a sense of safety. We have worked with Brendon to establish clear physical boundaries such as areas where he can play and also behavioural boundaries which impart particular expectations within the sessions. Being outside in nature helped Brendon to feel well and relaxed. Within each of the sites at Nature Nurture he has come to developed favourite places in which he feels particularly well or secure.
Brendon's physical frailty and lack of stamina has also improved over his time with us. Nature Nurture has contributed to this through providing plenty of opportunity for physical play and challenge. He loves to climb trees, run and roll down hills. As he gains stamina and over[1]comes his fear of new challenge, he becomes more daring and adventurous, whilst learning to risk assess situations for himself.
It has taken Brendon a long time to allow himself to trust relationships. He spent many sessions testing the adult who accompanies him to find out if he/she really cared or could forgive him when he was challenging. Through showing Brendon that he is valued unconditionally, this has gradually decreased and we have been able to talk to him about the way he feels and responds to those who are close to him. He has developed enough trust to be able to talk about his fears and worries and is clearly comfortable in the companionship of all the staff he knows well at Nature Nurture. He has also started to develop meaningful relationships with his peer group.
Jennifer's journey
Jennifer has attended Nature Nurture for just six months, but has already made big steps towards becoming a resilient little girl. She has had a traumatic life, witnessing the physical and emotional abuse of her mother by various partners. These experiences have had a substantial impact on the health and wellbeing of both Jennifer and her mother, resulting in a strain on their attachment. Jennifer's exposure to an environment that was filled with fear, anxiety and aggression has made it very difficult for her to develop an appropriate degree of self-regulation.
She was referred to Nature Nurture by her head teacher because of behaviours in school. There was a serious concern about abilities to manage socially and emotionally in group settings. Jennifer can be physically aggressive towards other children and staff. She needs to feel she has control of people and situations and her resulting behaviours are having a significant impact on her ability to access education.
In the time we have been supporting Jennifer, she has shown greatest development in mental and emotional wellbeing, physical health and wellbeing, and in her social competencies.
Jennifer has shown marked change in her reactions and responses to the challenges of social interaction. In general, she shows a greater ability to think about her responses instead of falling into a survival mode of fight. Jennifer now has moments where she can achieve a calm, alert state, even in her play with others. Overall her levels of anxiety have decreased. Nurturing and attuned relationships have been the biggest factor in this development. Our first aim with Jennifer was to establish a trusting, empathic relationship that has clear boundaries and expectations, provided by the consistency, rhythm and routine of sessions. This has helped her to develop a sense of security, familiarity and belonging. The natural environment has allowed Jennifer to explore and learn, develop and grow. It has offered her a space in which she can breathe, relax and put aside some of the anxieties that she lives with on a day to day basis.
Nurturing and attuned relationships have been the biggest factor in this development
When we first met Jennifer, she displayed poor gross motor control and co-ordination. Throughout her time at Nature Nurture, she has shown significant improvements in her confidence. She clearly feels more secure in her own body and Jennifer now actively seeks out activities which challenge her physically. She has found water play to be particularly calming and fulfilling. Her growing confidence in movement is also mirrored in her general health and wellbeing. She seems happier and her levels of physical tension have reduced.
There has been a significant change in Jennifer's ability to co-operate and collaborate. She has made a real effort to understand the intricacies of social interaction and now feels an important part of the group. As Jennifer has come to experience being valued, she has had the courage to trust herself in decision-making and building friendships. Within clear expectations and boundaries, she has the opportunity to take control and make her mark in a positive and productive way that is recognised and acknowledged by others.
What has taken place so far is a foundation on which we can help her build the next key areas of resilience. We aim to support her understanding and empathy of other people and her environment and to value her unique talents and contributions. We also want to promote her creativity and imagination, particularly her problem-solving skills. The development in these areas will support her social interactions and her sense of self-agency.
Logan's journey
Nature Nurture receives many children who are diagnosed with attention deficit hyperactivity disorder (ADHD). Logan's story is important because it demonstrates how quick and effective the Nature Nurture approach has been in facilitating the needs of children with ADHD. They come to value the energy and enthusiasm they have for life by being afforded the possibility of channelling it towards creative and positive outcomes.
Logan is one of our most recent referrals, joining the 8 to 11s programme in autumn 2016. He was referred to us after concerns that his behaviour in school and at home were becoming too challenging. Family relations were beginning to deteriorate as Logan became ever more violent and aggressive in his interactions with his mother. This aggressive behaviour was also becoming prominent at school, where Logan's teachers described him as being angry, argumentative and controlling. The school struggled to find activities for Logan, although they noted that he could be incredibly creative and loved music therapy. It was hoped that Nature Nurture could meet his needs.
When we met Logan, we could see that he was hyper-sensitive. He was in a constant state of anxiety and uncertainty and he often anticipated the worst outcomes in all situations. In this state, the unknown was a threat and triggered fight responses. Despite this, it was clear that he was desperate to understand his world and held an incredible sense of creativity and imagination. In the short time Logan has been with us, we have seen substantial development in his mental and emotional wellbeing, physical health and wellbeing and creativity and imagination.
It was clear that we needed to support Logan in his abilities to self-regulate. By the end of our first session with him, we could see the freedom of the outdoors helped him to feel calm and in control. Over a few weeks, the development of a predictable routine and familiarity with the group began to ease his anxieties and self-doubts. The close relationships that he has come to form with the adults in our team has been fundamental in Logan feeling valued and respected. He has cherished the one-to-one interaction and play with his keyworker and is quickly feeling secure enough to explore and identify his emotional states. As his calm-alert state persists within sessions, he is able to interact with others more effectively, seeking to understand behaviour. In a short time, we have seen a significant reduction in violent and angry outbursts as Logan has come to develop his own self-regulatory strategies.
It was clear from the beginning that Logan needed the space to be active and play. Logan has finally been able to expel his pent up energy by having fun. The natural spaces provide him with the possibility of improving his fine and gross motor skills, discover the limits of his body and begin to risk assess his environment, which has been incredibly rewarding. He has now begun to help others manage risk in their play. Rough and tumble play has been integral in this process and in developing his self-regulation. For example, in stick sword fighting with other children, he has become conscious of his strength and the need to be careful and considerate of others.
As this self-regulation has improved, Logan has begun to explore his creativity. While he still suffers from low self-esteem, he seeks to try new experiences. In a calm-alert state, Logan is able to express his creativity and learn very quickly. He has gone on to learn how to use different tools such as fire steels, knives, saws, rope and loppers. These tools have helped him bring ideas to fruition, for example building a swing, and allowed more elaborative play, creating a bow and arrow from scratch.
In just one programme, Logan has become more self-aware, engaging in positive and meaningful interaction and using his energy in fulfilling ways. Reports from school show a marked reduction in aggression and a greater involvement in curricular activities.
The promotion of resilience begins with the way each individual is perceived
The future
Nature Nurture continues to provide unique journeys of self-discovery and mastery for each of these children. The promotion of resilience begins with the way each individual is perceived, as a whole being, a unique being and a capable being. While every child we meet is on a different path and moving at their own pace, they all have the resources to reach their potential, to guide themselves with intention and purpose. These self-directed journeys are made possible by the effective climate of facilitation that the elements of nature, nurture and play bring about. We know it works because we observe it in every child and in each Nature Nurture session they attend.
Moving into our eighth year, The Nature Nurture project continues to grow and expand. Over the course of 2017 we will be developing and running additional programmes, including a new under-5s group and an 11–14s group. We will be delivering a variety of talks and training courses up and down the country, seeking to network and extend our reach to other cities in the UK and across the world. The social, economic and environmental benefits of an outdoor early intervention scheme like Nature Nurture are clear and increasingly relevant. We are continuing to see a growing awareness throughout the UK of the restorative and therapeutic effects which outdoor experiences can hold. It is our hope that this awareness will continue to bring about new progressive childcare and education initiatives and policies which afford children increased access to nurturing play experiences in nature.