Nature as therapy -Is nature-connection the antidote to the stresses and impacts of contemporary life?
Pat Fleming, Group leader, educator, conservation botanist
Published in JHH15.1 – Transformation innovation in healthcare
I live by the river Dart on Dartmoor, and teach nature connection and emotional wellbeing to educators at nearby Schumacher College. I also run a public wild-planted conservation garden at Princetown beside the main National Park Visitor Centre. I firmly believe that immersion in natural and wild places, combined with sensory and imaginative engagement, reflective practice and hands-on activities offers immense health, social and spirit/soul benefits.This article is a broad sweep examination of how nature connection is being practiced in the UK and beyond, summarising evidence[1]based impacts from a current worldwide wave of good quality wide-ranging research.
Ecotherapy: how nature makes us happier, healthier and more creative – this is a major principle of human life, now supported by evidence in biology, psychology and medicine.

Evolutionary biologist EO Wilson

'Nature: a place where birds fly around uncooked!

Oscar Wilde
I started in mental health work as a psychological counsellor and therapeutic groupwork leader, and wanted to understand some of the bigger forces at play affecting our human health. I have worked for nearly four decades exploring, developing and offering various forms of nature-based therapies, in particular deep ecology, emotional resilience work and immersive work in wild and natural settings.
I have seen how nature-connection practices can help participants unlock negative behavioural and thinking patterns, and can assist in reframing and resolving deep anxieties. It has been heartening to participate in and witness how these therapies enable personal insights and awakenings. When this happens it can lead to an increased sense of wellbeing, greater inner freedom, more energy, stability and confidence; not to mention delight and joy in being alive! A recent burst of research interest in nature connection is now providing evidence to back up my impression (Richardson et al, 2016).
These benefits can even be evoked in an indoor space: researchers have shown that simply projecting images of wild natural spaces accompanied by recorded birdsong helps us relax, feel more peaceful, less concerned and anxious. These artificial sights and sounds benefit our mood and concentration too, but I prefer to take people outside. Under a blue day or night sky in natural, wilder spaces as we engage all our senses there arises a more powerful awareness of humankind as a part of nature.
Hard-wired for nature
Our human evolutionary journey began way back in deep time: 10 billion years after the universe, biological life emerged some four or five billion years ago. I have found that deep time exercises can help us delve back, to reach with our body and imagination all the way back to the Big Bang, 14 or more billion years ago. This has helped me get a felt sense of how the natural world has shaped human life and health. In deep ecology workshops, this universe story (Swimme, 1994) of how the universe emerged and evolved from the singularity can help us appreciate the forces, processes and materials that form us.
In deep ecology workshops we seek ecological remembering through movement, sound and improvisation. A kind of therapeutic reconnection may unfold as we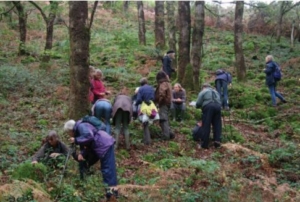 explore our beginning as single cell organisms, moving through early invertebrate life-forms, feeling into our fish bodies and senses, reptilian then amphibian bodies. Passing on from mammal-body we ultimately arrive as homo sapiens. Our newish species evolved some 1.8 million years ago from our more primitive hominid Australopithecus ancestors who dwelt in Africa's Rift Valley (with some Neanderthal genes mixing in along the way), to become relatively hairless upright bipeds sporting large brains with especially well-developed frontal cortexes, enabling excellent problem-solving and manipulation skills, use of tools, language and communication leading to more complex social culture.
All of these capacities evolved as we lived for hundreds of thousands of years as hunter-gathers within the natural settings of savannahs, steppe grasslands, forests, margins of rivers, coasts and lakes. Our domestication of animals and development of land-based agricultural practices of the Neolithic period occurred in relatively 'shallow' time, beginning some 12,000 or so years ago. We gradually settled into a more sedentary lifestyle living in early villages. Over a few thousand years we started to urbanise into increasingly denser, more organised populations. In evolutionary terms, this is a small blink in time.
Dislocation from the outdoors
In 2008, the World Health Organization reported that we have officially become an urban species. As of February 2018 the world human population is 7.6 billion, more than 50% of whom live in urban environments leading increasingly digitally dependent indoor lives. These are quite sudden changes even on the timescale of relatively new species like ours. Homo sapiens evolved in wild and natural habitats, so how will these changes impact our bodies, our nervous systems, our minds, and world's once diverse cultures?
If as WHO (setting the bar rather high!) defines it, health is 'a complete state of physical mental and social well-being, and not merely an absence of disease or infirmity', it would be very surprising indeed if this rapid, radical lifestyle shift did not add to the stresses and ills of modern life: to social isolation, anxiety and depression, obesity and diabetes, pollution-related diseases; also to the health effects of poverty, urban slums, poor social conditions and mass migrations.
It seems there is an epidemic dislocation from the outdoors. George MacKerron, an economist researcher at University of Sussex running the 'Mappiness app' study, examining human happiness, notes: 'study participants (over three million) are significantly happier outdoors in green or natural habitats than they are in urban environments'. His study (MacKerron , 2013) also found that people spend 93% of their time either indoors or in vehicles.
Nature connection research
In a century when so many of more of us will be cut off from the natural world we need to understand the part that intentional nature-reconnection might play. Over the past 20 years or so, a wave of research worldwide has tried to address this question. A useful overview of this work is The Nature Fix by Florence Williams, and a National Geographic article This is your Brain on Nature. Both sources have a lot to say about how nature engagement is beneficial to human health:
increased physical health – eg lower blood pressure, reduced obesity, improved immune system
enhanced emotional and cognitive health
improved recovery from depression, anxiety and stress
reduced social isolation and improved communication skills
enhanced sensory and aesthetic awareness, and ability to self-direct
increased sensitivity to one's own wellbeing.
Nature engagement
The best forms of nature engagement for each individual or group will very much depend on life habits, choices and issues (work, family, housing, local environment, communities, illness etc) which in turn affect people's wellbeing perspectives. I have known nature-based therapies help address mental health issues even where conventional therapies have failed. While working with an urban community organic gardening project we were joined by an Iraq War veteran suffering PTSD. She could hardly speak or socialise, but through gardening, and especially by learning bee-keeping, she recovered her mental wellbeing, eventually regaining self-confidence and the ability to speak again. In time she was employed as the project's wildlife officer which meant giving public talks and teaching about wildlife.
Nature-based therapies
Ecopsychology focuses on our connection with the natural environment. In traditional psychology, the 'psyche' is considered in isolation from its natural environment. Ecopsychologists seeing this split between mind and nature as being at the heart of our current ecological crisis, address this through therapeutic practices. Over the past 40 years 'eco' or nature-based therapies have been developing worldwide. In various ways they all offer practical ways to immerse ourselves safely in sensory experiences of the natural world, and to pay attention to what is experienced.
Ecotherapy can take place in 'natural' green and blue spaces (coastal, woodlands, national parks, mountains, landscapes) or in designed environments (parks, gardens, urban green space, therapeutic environments.) Ecopsychology practices aim to encourage an individual to experience a deeper connection with nature, or with each other in a group and with a wider sense of self.
Natural and wild spaces
Types of ecotherapy within natural spaces include:
green gym activities outdoors – walking, making and repairing, cycling, Tai Chi, unstructured time in nature
forest and seashore schools
environmental education organisations offering guided walks, nature connection, wild camps, bushcraft training
wild nature connection courses and camps – including vision quests, solo trips in nature, deep ecology, medicine walks, deep nature dives, wilderness spirit work
forest bathing therapy (shinrin yoku) – a Japanese practice based on ancient Shinto and Buddhist practices. It involves spending time in natural or semi-natural woodlands, cultivating a range of sensory experiences, also strolling and breathing exercises.
The physiological differences documented by Japanese researchers show that people who have spent time forest bathing for extended periods, have lower concentrations of cortisol, lower pulse rate, lower blood pressure, greater parasympathetic nerve activity, and lower sympathetic nerve activity than in city environments (Hansen et al, 2017).
Designed and managed therapeutic green spaces
When people are ill, the quality of space around them can help them recover. Perhaps the opposite is also true. Knowing that gardens can nourish the human spirit, an international movement of landscape and garden designers are incorporating health and wellbeing principles into their public gardens and green spaces. Particular examples can be found in spinal injury specialist units such as Horatio's Project at Stoke Mandeville, dementia care homes (Learning through Landscapes, cancer support centres such as the Penny Brohn Centre in Bristol, in the USA's PTSD farms for combat veterans, and in the UK charity Farms for City Children.
Designed green therapeutic spaces and ecotherapy projects include:
horticultural therapy in community gardens, orchards, city and rural farms. The range of projects work with special needs children, families and adults including ADHD and autism, sufferers of PTSD, depression, anxiety, post-accident and post-operative conditions, dementia
therapeutic hospital and hospice gardens
public gardens offering silent reflective spaces
medicinal herb and apothecary gardens/woodlands
botanical and other public gardens where there are sensory gardens (eg for blind people).
Healing green space design encourage meaningful creative activity and stimulation through social interaction, manual and physical activity that lead to task satisfaction, and reduce social isolation, anxiety and depression, and increase personal confidence, self-worth and wellbeing.
Peaceful beautiful places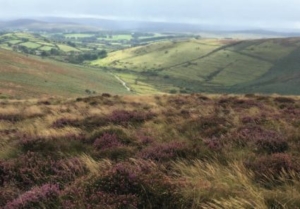 Botanic gardens, arboreta and National Trust gardens provide accessible green spaces where nature and beauty are managed. Peaceful public places such as these are nodes in a wonderful UK wide network. City farms and community gardens in schools are important urban green therapeutic spaces. More than 200 farms and more than 1,000 community gardens provide nature-connection havens where people of all ages learn about growing vegetables, prepare (sometimes wild and foraged) food together, and share community meals, hold local fresh food sales, learn about bee-keeping and local wildlife.
Silent Spaces is a recent movement which aims to provide quiet public places. They are often within larger gardens, where everyone is asked to switch off their mobiles, stop talking and respect a quiet area for personal reflection, prayer and meditation.
It is heartening that these therapies, projects and practices are now being taken more seriously by the mainstream. Partnerships are developing between regional health services and national parks. Where I live in Devon, the Naturally Healthy project has been running for more than three years in Dartmoor and Exmoor national parks. It has brought together GP practices, local authorities, Exeter and Plymouth universities, Natural England and Public Health England. The pilot study is showing encouraging results including practical suggestions for 'green prescriptions'. The Naturally Healthy Report is now available online (http://valuing-nature.net/news/naturally[1]healthy-report-now-available).
In conclusion
Nature connection therapies are being shown as making us healthier, more creative, more empathic and more likely to engage with the world and with each other. For those who would like to experience a deeper level of wild nature engagement, also to meet others involved in ecotherapy work, research and training, there is a list of resources at the end of this article.
Essentially nature connection work is simple: get outside into a more natural setting (even a garden) and open your senses. Notice the wind in your hair and on your skin; really feel the cold, or the warmth of sunlight and see the colours entering your eyes; look afresh at natural forms; be aware of how the air enters your nostrils, how gravity pulls on your body; make a stronger contact with the earth beneath your feet. This mindful embodied work helps us to remember who we really are – deeply connected participants in the web of life. Nature connection invites us to experience a much wider and more ancient sense of self and belonging.
Everybody needs beauty as well as bread, places to play in and pray in, where nature may heal and give strength to body and soul.

John Muir, naturalist and mountaineer (1838–1914)
References
Hansen M, Kobayashi H, Park S-A, Song C (2017) Shinrin-Yoku (forest bathing) and nature therapy: a state-of-the-art review. Int J Environ Res Public Health 14(8): 851.
MacKerron G (2013) Happiness is greater in natural environments. Global Environmental Change 23(5).
Richardson M, McEwan K, Maratos F, Sheffield D (2016) [Online] Joy and calm: how an evolutionary functional model of affect regulation informs positive emotions in. nature. Evolutionary Psychological Science. doi 10.1007/s40806-016-0065-5.
Resources for ecotherapy, re-connecting with nature, green healthcare
Websites
Resources, research and training in forest bathing and forest therapy. Good health benefits research.
Offers immersive courses – deep nature dives, creative retreats and mindfulness in nature.
Report on National Parks collaborative research with Public Health England and local authorities on green health initiatives, also offering a practitioner's 'Wellbeing in nature' toolkit.
Prof Giles Chalfont – therapeutic green spaces and support for dementia (University of Lancaster's Centre for Ageing Research). Resources include Dementia Green Care Handbook.
UK network of ecologically-based psychotherapists and movement therapists. Also courses, resources, events.
Outside the classroom' immersion for children in the countryside, farming, nature and food.
UK-wide network of urban-based local community farms and gardens teaching healthy lifestyles and wellbeing, with hands[1]on contact with plants and animals. Good resources and research evidence on mental health benefits
Natural learning in woodlands. Offers UK network of forest schools, trainers resources and local groups.
Charity which designs and installs therapeutic garden spaces beside spinal injury units around UK
Japanese-based with good resources (publications, articles) on forest bathing practice.
Offering training and experiential wild nature connection, offers John Muir Award. Educational resources and conservation lobbying and practices.
UK network of horticulturalists and garden designers interested in health, wellbeing and green-space therapeutics.
Based at University of Derby. Research reports. Host of Nature Connections conference series.
Educational resources on benefits of gardens, horticultural and green therapies, including Phd students research. Published 'RHS Health and Horticulture Charter.'
National UK network of gardens and green spaces offering silent areas and/or silent time periods
Courses include re-wilding, discovering our indigeny, deep ecology, cosmos and holistic science.
Social and therapeutic horticulture centres, training, resources
Psychosynthesis-based workshops on wild nature and the human soul, vision quests, medicine walks.
Offers 'Call of the Wild' deeper immersion course, family and children's camps, bushcraft training, rites of passage, re-wilding events.
Publications
The nature fix – why nature makes us happier, healthier and more creative. Florence Williams (2017)
This is your brain on nature. National Geographic (2016) www.nationalgeographic.com/magazine/2016/01/ call-to-wild
Ecotherapy: healing with nature in mind. Linda Buzzell and Craig Chalquist (eds) (2009).
Ecotherapy – theory, research and practice. Martin Jordan and Joe Hinds (eds) (2016).
The last child in the woods: saving our children from nature-deficit disorder. Richard Louv (2010).
Review of nature-based interventions for mental health care. Natural England (2016).
Events
20 June Nature Connections- interdisciplinary conference at University of Derby. www.lotc.org.uk/nature-connections[1]2018-4th-interdisciplinary-conference.
22–25 June Wild Nature and the Human Soul. Lake District residential organised by Wildrites. See website above.
5–8 July Edge of the Wild. Ecopsychology Gathering at Green and Away, Worcester. Organised by the Ecopsychology Network. See website above