Margins to mainstream: Enhancing health and wellbeing through the arts
TonyWoods, Programme manager for the SHAPER programme, King's College London
Published in JHH17.2 – Mind-body self care
I am reminded every day of how personal health, illness and wellbeing is; how we experience ill-health, how we get better and how we sense our state of wellbeing, is unique and personal to us.Therefore any health system that does not allow us to reflect on the experiential side of medicine is incomplete and therefore not wholly effective.The arts allow us, among many things, time to reflect, time to be creative, time to connect with others and time to surprise ourselves in how we respond and react to artistic challenge.When I was a career research scientist 20 years ago, I would have read such sentiments and laughed.The way in which my outlook has changed over my career journey, moving from the sciences to the humanities and then to the arts may demonstrate to some people that I have acquired at least a bit of wisdom over this time. I am optimistic for the future: advocates of the arts in health are now being listened to by policy-makers and the push towards more structured social prescribing can only help this cause.
Nikki Crane,

Arts programme manager for the SHAPER programme, King's College London
In my first posting as a dance animateur in South Humberside I saw first-hand how the arts and especially dance could transform communities. Later at Guy's & St Thomas' Charity it was a privilege to work closely with so many extraordinary artists and clinicians developing creative programmes to work wonders in the local hospitals and community. It was a natural progression to move on to King's College London where I now lead the university's vision for arts, health and wellbeing.Throughout all of these experiences I have had a trusted guide; flamenco dance, my obsession when I am not working – an artform that is born outside of studios in the heart of the communities and as close as you will get to bringing mind, body and spirit together.
Introduction
Over the last 20 years or so, much has been written about the impact of the arts and engaging with culture on our physical and mental health and general wellbeing, and even funding councils and charitable foundations have invested increasingly significant funds to enhance our understanding of how and why engaging with the arts is so good for us and society more widely.
This article is not a systematic review of the evidence for the impact of the arts nor is it a summary of all the organisations engaged in promoting this field of endeavour. It is merely our personal reflection on why we think it is important, how we got involved and what we think the future holds. We do this from different standpoints; one from a scientific perspective (Woods) and the other from an arts background (Crane). We are acutely aware that there are many people who have been involved in this field for far longer than us and in much more academic depth – the experts are those who contributed to the All-Party Parliamentary Group on Arts, Health and Wellbeing (APPGAHW) report Creative health: The arts for health and wellbeing published in 2017 (although Crane was a member of this
group). However, we are 'qualified' to write this article in that we recently (2019) joined forces to build a research and implementation team at King's College London led by Professor Carmine Pariante with Daisy Fancourt from University College London and the three independent arts organisations we mention below. This culminated in a £2 million, three-year award to upscale and embed arts interventions within a clinical pathway, initially across south London.
Before we tell you about the Scaling-up Health Arts Programmes – Implementation and Effectiveness Research (SHAPER) programme, we thought it perhaps pertinent to explain how we became involved in arts and health and why, and our very different journeys to this point.
Nikki Crane
My life in arts and health has taken me from small-scale dance practice in South Humberside to strategy and funding at Arts Council England and then to Guy's & St Thomas' Charity, where an encounter with an extraordinary dance project brought all these experiences together. I came finally to my current role at King's College London leading the university's vision for arts, health and wellbeing and as advisor for the SHAPER programme.
Carving out my role as dance animateur for South Humberside in the 1980s was a particularly formative experience. I was to be one of the country's first pioneer
dance animateurs sent into communities to stir up dance activity with the aim of increasing social engagement and wellbeing for any group that was game and in any available venue. My training in contemporary dance at the Laban Centre, London, with some notable names from the Cunningham and Graham schools of contemporary dance in New York, though character-forming and bodytransforming, could not have equipped me less for what I was about to meet. Over the next three years I set up dance and wellbeing classes with Scunthorpe United Football team; young people on the margins of the criminal justice system; break-dancing teams, adults with learning disabilities and the over-60s group. Needless to say, as the job title suggests, I began with classic missionary zeal soon realising that I would have to completely re-learn my craft – leading and listening in equal measure, creating dance ideas together with my community groups
and holding my nerve that we would create something of real value together.
There wasn't an established field of arts and health at this time, which looking back was an opportunity not to be too self-conscious about how I went about my task, worrying about whether my modus operandi came up to expectation. It was here that I learnt first-hand (and through many failures) about what I still hold as some of the key principles of successful work in dance, health and wellbeing: holding on to the quality of the arts whatever the ability of the group you are working with (and this includes the quality of the workshop and performance spaces); setting the bar high in terms of challenge and ambition thereby putting the emphasis on people's capabilities and the importance of public performances for friends, family and the wider public in providing precious moments to share achievements with the community and a chance for many individuals to show themselves in a different light.
From this first grass roots experience it was a steep climb into my next roles at Arts Council England, first as dance officer for the eastern region and then in 2000 taking up a new post as head of social inclusion at the national office in London. This was in the heady days following the Policy Action Team 10 report published by the Department for Culture, Media and Sport in 1999 (PAT 10, 1999) with its action plan to maximise the impact of arts, sport and leisure policies in contributing to neighbourhood regeneration and increasing local participation. In relation to our work in arts and health at this time this was a pivotal report, and the perfect platform from which to launch both our first national arts and health strategy and the prospectus for arts and health (Arts Council, 2007). We now had the opportunity to work at scale but the key challenge then and now was how to create the appetite for adopting programmes into the mainstream of the health system. At the same time, we were acutely aware that we would have to keep apace with building a robust evidence base for arts and health and ensure that artists were equipped to deliver high-quality work. Hence training became a high priority. Another big shift during this time was recognising the expertise of the smaller arts companies, many of which had been working invisibly at grass roots level and making a huge impact in this field for a long time, though with little connection to the Arts Council.
Having gained an insight into the local and national picture of arts and health, I then moved in 2012 to oversee regional strategy as head of arts strategy at Guy's
& St Thomas' Charity, a major health charity funding innovative programmes across south-east London. Between 2012 and17 we developed an £8 million portfolio of arts and health programmes in both hospitals and the community, building partnerships between clinical staff, academics and arts organisations. Here the learning was about co-design of programmes with our health partners including local commissioners so that joint plans could be made for their later adoption within clinical pathways. Now I was working in reverse from my time at the Arts Council, taking the lead from the health system while ensuring that we maintained the excellence and innovation of the arts and did not shy away from the challenges they would inevitably bring.
One of the projects we funded in 2013 to 2015 was The Alchemy Project, an innovative action research project in partnership with the Institute of Psychiatry, King's College London and the Early Intervention in Psychosis Services through South London and Maudsley NHS Trust. The aim was to engage young adults accessing these services with contemporary dance. The research demonstrated that the dance methodology at the heart of the intervention in the early stages of psychosis delivered clinically significant increases in wellbeing of participants (Warwick Edinburgh Mental Wellbeing Scale).
This project was to be an opportunity for me to build on much of the learning I had gathered in South Humberside and at the Arts Council and yet again to
stand in awe of what some of the smallest and least well-resourced arts companies can achieve in health. I recognised the artists' approach immediately – the
outcomes were important but first of all the process had to be right. These artists were aspirational in what they wanted to achieve with the young people, never underestimating what each individual was capable of. The participants in the Alchemy Project were all non-dancers but there was no hesitation in putting them through a highly structured and demanding professional training programme leading to performance. The artists worked tirelessly to prepare the young people for being on stage, pushing for higher standards all the way but in a safe and supportive environment. Most symbolically they treated the participants not as patients but as dancers and from day one they were referred to as a company of dancers.
One of the main challenges of the project was reconciling the artists' appetite for risk with that of many of the health professionals, who were understandably
apprehensive with such a vulnerable and potentially volatile group. Doubts centred around lengthy travel times to the studios, energy levels required for full, intensive days of dance training and coping with the touch and close personal contact required; and there were in addition particular concerns about staging public performances. Happily, good team-working and trust engendered from the outset won through and the majority of the participants did achieve all of these things and more. The specific outcomes of the project included: improving interpersonal relationships, positive functioning and positive affect. These impacts were clear to see both in class and performance especially the increase in fitness levels, changes in posture and bodily control and a reconnecting of the relationship between mind and body that we have come to call embodied confidence. Marked improvements were seen in communication skills, trust and team-working alongside some dramatic changes, witnessed by many of the mental health professionals involved, in raised motivation, resilience, energy and optimism.
This led me to my current work at King's College London and the SHAPER programme – one of the drivers being a recognition of the need to scale-up interventions that work.
TonyWoods
My career started as a physiologist at St George's Hospital Medical School (now SGUL) where I was a young dyed-inthe-wool scientist who had no time for and didn't 'get' the arts. Looking back at my naïve former self, I saw the world in black and white terms – science was truth, the arts were fluff. After an unremarkable career in obesity research, I decided to get a 'proper' job and was fortunate to land a role at the Wellcome Trust in 1998 where I worked on the
physiology and pharmacology panel. It was fun, but not that much, so when I got the opportunity of a promotion to jump out of the (hardcore) science division and into the 'fluffy' medicine, society and history division (as head of history of medicine) I didn't look back. In the 11 years or so that I ran this programme, my daily conversations were with people from a humanities background who talked about the importance of subjectivity, experiential medicine and patient narratives. Personal testimonies of patient experiences, to my bewilderment, were given much credence; my view was still that anecdotal evidence
is just that, anecdotal. Then the shift away from history of medicine to medical humanities occurred (a 'fashionable' reinvention of the subject sparked by Wellcome accidentally – though that is another story), as these conversations about taking subjectivity seriously gained credence they were defining a whole new funding programme.
Around 2010 I was approached for funding by Tim Joss (now Aesop) who wanted to do a randomised clinical trial on an arts/medial humanities intervention. Sadly, Wellcome wasn't quite ready to fund such an endeavour, which says more about Wellcome at the time than Tim's ability to design one. And there, the story for me could have ended once I left Wellcome in 2012. However, before I did, I led on the creation of the Wellcome Hub, a trans-disciplinary research space located above Wellcome Collection. For the next few years, my only regret at leaving Wellcome was not being involved in the hub. So when in 2017 I was asked to manage the space for a year I couldn't have been more delighted. The space at that time was home to its second group of residents led by Professor Sebastian Crutch (UCL) whose project Created out of Mind was in full flow (see www.createdoutofmind.org). The project aimed to explore, challenge and
shape perceptions and understanding of dementias through science and the creative arts. It certainly changed my perceptions – not just about dementias but also the importance of the patient (and carer) experience and the value of co-creativity (in participatory arts practice and research design). I don't have the space here to describe their work in more detail but I do recommend those of you who need convincing about co-creativity to read 'Contributions of patient and citizen researchers to the "Am I the right way up?" study of balance in posterior cortical atrophy and typical Alzheimer's disease' (Crutch et al, 2018).
As my time in the hub was drawing to a close, Wellcome was approached by Baroness Deborah Bull from King's College London who wanted Wellcome's help in
addressing the recommendations of the aforementioned creative health report – funding to roll out effective arts interventions and embed them in clinical care pathways. Being a 'born again' advocate for the importance of the arts in medicine, I was asked to join forces with Nikki Crane and build a team at King's to take this on. The result was the £2 million SHAPER programme (Scaling-up Health Arts Programmes – Implementation and Effectiveness Research).
The SHAPER programme
The programme consists of three individual arts interventions. The first project is called Melodies for Mums and focuses on women with post-natal depression. It is an initiative from Breathe Arts Health Research – a south London based arts organisation set up by the dynamic Yvonne Farquharson which has a fantastic track record in delivering high quality interventions that include singing, dancing and their award winning Breathe Magic Intensive Therapy Foundation programme which is designed to help young people with hemiplegia (weakness or paralysis affecting one side of the body caused by an injury to the brain). Melodies for Mums provides a 10-week programme of singing and music sessions for mothers with postnatal depression (PND) and their babies in community children's centres. A trained music leader and a co-ordinator lead two hour-long weekly sessions over 10 weeks with 14 women in each session. Sessions typically consist of learning a variety of culturally diverse songs focusing on women, and encouraging bonding with the baby and engagement with each other. The programme has also been identified as a strong way of engaging mothers from minority backgrounds who are less likely to seek professional support for their mental health post-birth. Initial research (Fancourt & Perkins, 2018) demonstrated its effectiveness in reducing symptoms of PND faster than usual care or social groups. Over the next three years we will expand this study to cover 400 participants and include a range of measures, both qualitative and quantitative, to look at the effect on both the mothers' mental health and wellbeing, and mother/infant bonding.
Our second project focuses on life after stroke. We are all aware of the enormous physically debilitating effects of have a stroke and Stroke Odysseys (the brainchild of Lucinda Jarrett at Rosetta Life) is designed to ease the impact of that physical debilitation. However, it is much more than that, for its real value lies in its focus on preparing the post-stroke participant to cope not only physically, but mentally too.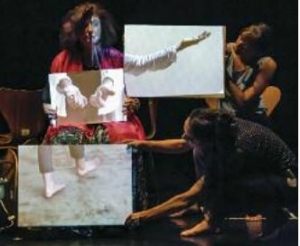 It is, in essence, primarily a preventative mental health programme with a focus on what the post-stroke participant can do rather than dwelling on what they cannot. The performance arts programme centres on communication of experiences to an audience through acquired skills in movement, music, song and the spoken word. In the hospital setting, sessions run for 60 minutes weekly for groups of six to eight participants on neuro-rehabilitation wards. In the community, there is then a follow-on 12-week performance intervention where participants devise a dance and music performance work from their own stories. After the performance is completed, participants are invited to a training programme where they learn to act as advocates (stroke ambassadors) for life after stroke. Stroke ambassadors then support artists in hospitals, befriend the newly discharged patients and take part in small-scale performance tours to hospital wards, care homes and community centres to challenge the perception
of disability. The team has undertaken preliminary research demonstrating benefits for perceptions of disability, cognition, mobility, and speech disabilities (Harrington et al, 2018), but more in-depth research, co-designed with the participants through participatory action research will be conducted in the study.
Our third project is called Dance for Parkinson's and is delivered by the English National Ballet (ENB). It was established in 2010 and was inspired by the work of Mark Morris Dance Group's D
ance for PD® in Brooklyn, New York. It is a 12-week programme inspired by ENB's repertory and delivered within a professional dance environment with live music for people with Parkinson's their family, friends and carers. The model has been replicated nationally (albeit on a small scale) through five hub partnerships over six years. The programme is structured much in the same way as a ballet class, progressing from a seated/standing warm-up at the barre, and progressing to movement sequences across the space, developing dance material and ending with a group cool
down. A small-scale study led by a research team at the University of Roehampton examining the effects on the body and on activities of daily living found evidence of immense emotional, social and artistic value to participants (Houston & McGill, 2015). Over the next three years we will verify the extent to which this is happening and deliver the programme in several local settings. Professor K Ray Chaudhuri and the team will investigate the effects on both motor and nonmotor symptoms by conducting a randomised controlled clinical trial investigating the role of ballet dancing as an adjuvant therapy in Parkinson's disease, as assessed by a range of validated clinical outcome measures and objective wearable sensors for the assessment of motor gains.
Thus, here we are. We have three already established, successful projects and we won a £2 million grant. You'd be forgiven at this point for asking what for? These programmes 'work' – shouldn't they continue and expand due to high demand? In an ideal world yes, but then we know that transferring or translating successful 'treatments' into mainstream healthcare is not that straightforward. First, we need to nail the effectiveness (efficacy) question. Yes, we have evidence, but in some cases we need fully powered, randomised controlled trials to satisfy clinicians, clinical commissioners and policy-makers (artists know these interventions work as they have qualitative data and have seen the benefits for themselves!). Second, we need to identify the 'active ingredient' of these interventions, ie what is it exactly that has such profound effects on wellbeing? To do that we need to analyse as far as we can every action and every nuance of each intervention, understand exactly how it is delivered and how it is received and be able to write a 'blueprint' for others to be able to deliver it. And finally, we need to know about its cost-effectiveness. These interventions will only be accepted into the mainstream if they are 'scratching an itch' of commissioners
and saving them money in the process.
The fact that the two of us can even have a meaningful conversation about the arts and health is testimony in itself to how the field has developed. The fact that we agree on its potential and importance, given our different journeys to this point, is truly remarkable. The aforementioned grant application was built from the bottom up. We identified three arts interventions and then found the clinicians and scientists whom we thought would be a) genuinely interested in this line of research; b) able to recruit the required number of participants/patients and c) not regard arts in health interventions as a peripheral endeavour to their main research interests and be happy to fully integrate their role in this programme into their core research programme. However, it was not until we were awarded the grant that we all sat in a room together to thrash through the detail of what we were actually going to do. The first hour or so of that get-together was tense – we had not found a common language or appreciation of what constitutes 'evidence' in the arts in health field. It was our job to bridge that divide, as we ourselves had done some nine months earlier. The coronavirus has slightly stalled our plans, though we are in the process of shifting our interventions online, but we shall reconvene with even more vigour given what we have witnessed about the isolation incurred by our vulnerable participants and a future in which preventative mental health interventions will be of huge importance.
Acknowledgements
The SHAPER programme is a huge collaborative effort conducted by our colleagues and collaborators: Professor Carmine Pariante (PI), Daisy Fancourt (co-PI), Paola Dazzan, K Ray Chaudhuri, Nick Sevdalis, Ioannis Bakolis, Hannah Dye, Tim Osborn, Alison Hartley, Fleur Derbyshire-Fox, Lucinda Jarrett, Fiona Jones, Nick Ward, Caroline Ellis-Hill, Carolina Estevao, Aleksandra Podlewska, Katarina Rukavina, Tayana Soukup-Ascensao, Rachel Davis, Andy Healey, Rebecca Bind, Lavinia Rebecchini, Manonmani Manoharan, Alexandra Burton, Rosie Perkins, Valentina Leta, Isabella Premoli, Miriam Parry.
References
Arts Council England & Department of Health (2007) A prospectus for arts and health. London: Arts Council of England.
Crutch SJ, Yong KX, Peters A, Dilek O, Kaski D et al (2018) Contributions of patient and citizen researchers to 'Am I the right way up?' study of balance in posterior cortical atrophy and typical Alzheimer's disease. Dementia, 17(8) 1011–1022.
Fancourt D, Perkins R (2018) Effect of singing interventions on symptoms of postnatal depression: three-arm randomised controlled trial. Br J Psychiatry, 212(2) 119–121.
Harrington J, Fudge N, McKevitt C.(2018) The stroke ambassador; an ethnographic evaluation [online]. Rosetta Life. Available at: www.rosettalife.org/2019/02/12/the-stroke-ambassador-an-ethnographic-evaluation-december-2018 (accessed 22 June 2020).
Houston S, McGill A (2015) English National Ballet, dance for Parkinson's: an investigative study 2 – a report on a three-year mixed methods research study. London: English National Ballet.
PAT 10 (1999) National strategy for neighbourhood renewal: policy action team audit: report of the policy action team: The contribution of sport and the arts. London: DCMS.