Journal of Holistic Healthcare
Our journals are downloadable currently for members only though we would like to see them freely available in the future. See the front page on how you can donate. 
Not yet a member?  Join Now 
About the Journal
The Journal of Holistic Healthcare is a UK based journal circulated to members of the BHMA, focusing on evidence based practice and the practical implications of research in holistic health and social care. Its target audience is the full range of healthcare practitioners, CAM practitioners, health service providers, policy makers, commissioners and researchers in the field.
Anyone interested in Holistic Healthcare can become a member of the BHMA in order to gain access to journals. A sample journal is also freely available to download. Members can access both the current issue of the Journal on-line as well as back issues dating back to May 2004. 
The Journal typically includes detailed case examples of successful holistic practice and services, research findings and methodologies, evidence of effective practice, and commentaries on policy and service developments in the field. Our aim is to establish a high-quality source of information and good practice examples for anyone interested in holistic health, including policy-makers, practitioners and lay people. Our intention is to link theory to practice. The Journal is intended to be accessible and readable as well as challenging. Key articles will link theory and research to practice and policy development. Contributions from a variety of disciplines are welcome.

To contribute to the Journal of Holistic Healthcare please download the Contributors Guidelines: short version or full version. To advertise please email our administrator, Jill Herrett:  contactbhma@aol.co.uk .
Issue 11.3 – Winter 2014/15
Resistance and Resilience
Issue 11.2 – Autumn 2014
Active Hope for healthcare
Issue 11.1 – Spring 2014

Compassion – leading from the front

Issue 10.3 – Winter 2013

Wisdom in Medicine
Issue 10.2 – Autumn 2013
Medicine – craft or industry?
Issue 10.1 – Spring 2013
The NHS – who cares?
Issue 9.3 – December 2012
Holistic Learning
Issue 9.2 – August 2012
Words in Medicine
Issue 9.1 – May 2012

Healthy Ageing
Issue 8.3 – December 2011
Compassion and empathy in healthcare
Issue 8.2 – August 2011
Climate change
Issue 8.1 – May 2011
Death and dying
Issue 7.3 – Dec 2010
Issue 7.2 – Oct 2010
Issue 7.1 – May 2010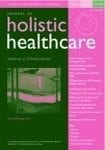 Issue 6.3 – Nov 2009
Medicine as if people matter

Issue 6.2 – Aug 2009

Issue 6.1 – May 2009

Issue 5.4 – December 2008

Issue 5.3 – September 2008

Issue 5.2 – May 2008

Issue 5.1 – Feb 2008
Modern times
Older journals still available for download – images coming soon.