About
The Journal aims to stimulate transformative innovation, engagement and collaboration.  It regularly presents  examples of new thinking and effective holistic practice and related services. We want the journal to be read not just by people working in the field, but by anyone who is concerned about real innovation in healthcare. A sample journal is also freely available to download. 
Access 
For members
All digital journals are available to download (for FREE) to BHMA members who have logged in.  
Members may also subscribe to receiving print copies of the latest journal for an additional £20 per annum.
Group Space Members: Our old platform for accessing the Journal has now closed and we need to move your membership over to this website.  To make your move please email: sales@bhma.org.
Not yet a member?  Join Now
For non-members
If you do not wish to become a BHMA member, you can buy individual journals for £12.00 and articles for £3.50. Simply select the journal or article you wish to obtain and proceed to the shopping cart.
Contribute 
Our aim is to establish a high-quality source of information and good practice examples for anyone interested in holistic health and we welcome contributions from a variety of disciplines. To contribute to the Journal of Holistic Healthcare please download the Contributors Guidelines: short version or full version.
To advertise please email Jodie Chan: sales@bhma.org
Issue 11.3 – Winter 2014/15
Resistance and Resilience
Issue 11.2 – Autumn 2014
Active Hope for healthcare
Issue 11.1 – Spring 2014

Compassion – leading from the front

Issue 10.3 – Winter 2013

Wisdom in Medicine
Issue 10.2 – Autumn 2013
Medicine – craft or industry?
Issue 10.1 – Spring 2013
The NHS – who cares?
Issue 9.3 – December 2012
Holistic Learning
Issue 9.2 – August 2012
Words in Medicine
Issue 9.1 – May 2012

Healthy Ageing
Issue 8.3 – December 2011
Compassion and empathy in healthcare
Issue 8.2 – August 2011
Climate change
Issue 8.1 – May 2011
Death and dying
Issue 7.3 – Dec 2010
Issue 7.2 – Oct 2010
Issue 7.1 – May 2010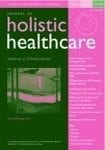 Issue 6.3 – Nov 2009
Medicine as if people matter

Issue 6.2 – Aug 2009

Issue 6.1 – May 2009

Issue 5.4 – December 2008

Issue 5.3 – September 2008

Issue 5.2 – May 2008

Issue 5.1 – Feb 2008
Modern times
Older journals still available for download – images coming soon.